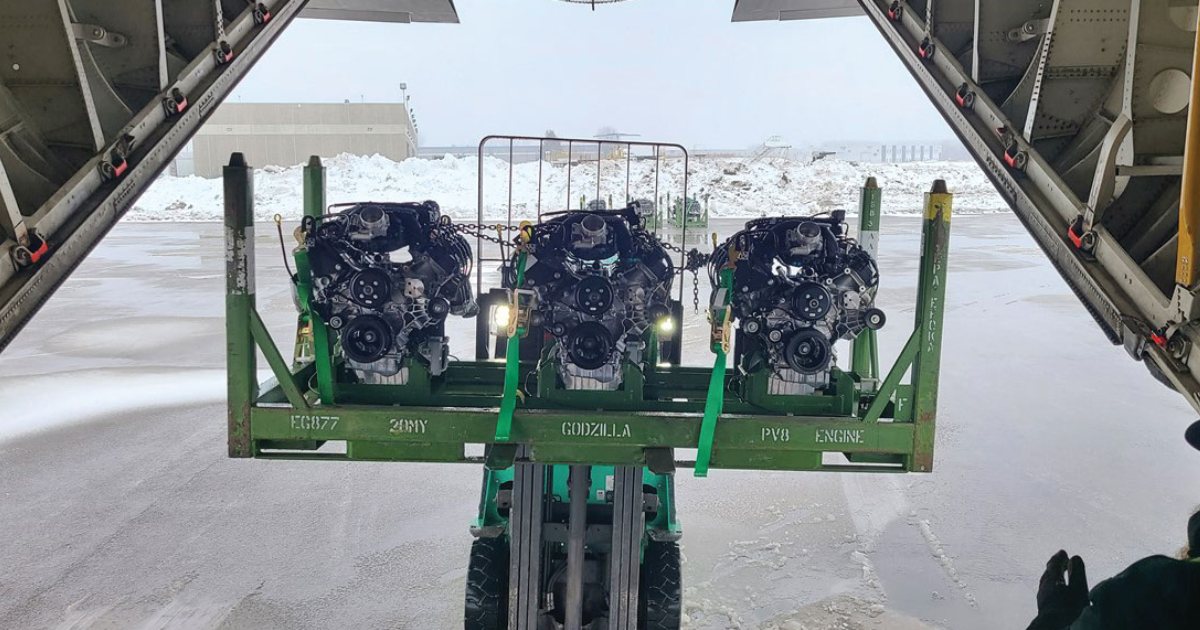 Lynden flew to the rescue of American and Canadian auto makers this winter when protestors blocked the streets of Ottawa, protesting against vaccine mandates for truckers and other COVID-19 precautions. Members of the Freedom Convoy blockaded U.S.-Canadian border crossings including the busiest and most important, the Ambassador Bridge connecting Windsor, Ontario with Detroit, MI. Chrysler, Ford, General Motors and Toyota shut down or scaled back production at plants due to parts shortages and the lack of truck transportation.

According to Commercial Operations Manager Dan Marshall, Lynden Air Cargo was called upon to facilitate an air bridge to fly parts between Ontario and Detroit at the request of brokers Global Wings Express and Ascent on Demand. Crossborder flights are mainly used for emergency transport due to cost, but many auto manufacturers had no choice as the protest continued.

"We were mostly hauling truck engines for one of the major auto makers," he says. "Interestingly enough, our aircraft were already on contract hauling car parts from the Mexican border north to Detroit and the South Carolina area when the call came in for the Canadian border assistance."

Mobilizing quickly, the first Lynden aircraft started flights within 12 hours of the initial request. By then, air cargo movement at Willow Run in Ypsilanti, MI, had increased considerably as the same planes were taking off and landing every three hours loaded with auto parts.

"There were plenty of obstacles to compete with on these trips, including congested ramps, delays in paperwork processing, truck availability for cargo delivery to airports, delays for entry and exit custom/immigration approvals," Dan explains. "Lynden Air Cargo flight crews and the operations team persevered and accomplished all but one of the requested flights before the bridge reopened."

"The auto part supply chain is still struggling with limited truck availability," Dan says. "After our nine flights during the blockage, we have continued to run auto parts from the U.S.-Mexican border north to Detroit and into Canada."

The flight crews included Captains Brent Ellender and Aaron Dial, First Officers Michael Theriot and Curtis Schuermann, Flight Engineers Gary Maynard and Jeff Brown, Loadmasters Jacob Amarok and Kevin Boyles, Flight Mechanics James Brookshire and Travis Blaszak, and Flight Control Agents Kyle Zerkel, Rebel Tjomsland, Dolores Liberty, Mandy Hulet, Chris Anton and Cornelis Steyn.