The month of August brought temperatures so hot that wells ran dry in Oregon. The month also delivered devastation in Haiti with a magnitude 7.2 earthquake. In typical Lynden fashion, LTI, Inc./Milky Way and Lynden Air Cargo quickly mobilized people and equipment to help.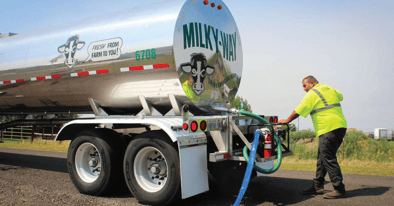 "Like many states, Oregon has been suffering from drought conditions this summer. When I first talked to the Oregon Emergency Management Team about this project in late July, there were 55 dry wells. That quickly increased to 187 and numbers continued to climb," says LTI, Inc. Klamath Falls Operation Manager John Bailey.

The state reached out to LTI, Inc./Milky Way to see if its tankers could haul water, instead of milk, to stranded residents. Oregon's Bootleg Fire was in full swing and water tenders were scarce. John, Regional Manager Greg Tolle and Lynden leaders came up with a viable plan and moved forward to meet the state's needs.

A milk tanker is not set up to pump water, so alterations were needed to make the deliveries. "On day one it took two drivers, one to run the pump and the other to hold the end of the hose so it wouldn't come flying out of the tank," John explains. "On the second day, we built a 2-inch PVC fitting that slips into the tanks making it a one-man job. That worked so well another water hauler copied us."

John says he was surprised at the overwhelming support from residents when they first saw the Milky Way tankers pulling down their streets. "Driving a 6,700-gallon milk tanker on city streets can be challenging. In some instances, we had to ask neighbors if it was ok to back into their driveway to get turned around." Each day, the Oregon State Water Master emails a list of homes needing water to LTI, Inc. and the delivery route is built from that information. The Lynden team will continue serving Oregon residents through October.

A half a world away an earthquake struck Haiti on Aug. 14 leaving thousands dead and many injured. Haiti is still dealing with the fallout from an earthquake in 2010 that killed an estimated 300,000 people. As it did in 2010, Lynden Air Cargo began flying relief missions immediately.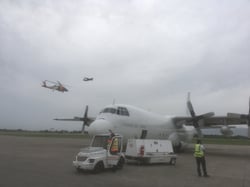 "Our first three flights were assisting with the movement of a search and rescue team's gear from Washington, D.C. to Port-au-Prince in Haiti," explains Dan Marshall, Lynden Air Cargo Charter Manager.

"We have also flown two supply missions from Fort Lauderdale, FL to Port-au-Prince. Authorities that grant landing permits switch from one day to the next which adds to the confusion on the ground, however the Lynden team persevered and operated all flights very close to the originally scheduled date and times."

The two crews flying to Haiti include: Captains Brent Ellender and Chris Nichols, Flight Officers Random Dudley and Guillaume Saget, Flight Engineers John McClellan and Cliff Ayers, Loadmasters Ron Pine and Kevin Boyles, and Mechanics Bill Hamilton and Jim Brookshire.


Topics from this blog: LTI Inc. Lynden Air Cargo Disaster Relief Milky Way trucking Drivers Truckload Specialized Community