LTI, Inc./Milky Way drivers are rolling down the road in new tractors this fall, the result of a large-scale major equipment acquisition. According to Dave Seaman, Director of Equipment and Maintenance, LTI invested in new power units this year which replaced some of the high-mileage tractors. "The new equipment is allowing us to lower our operating cost by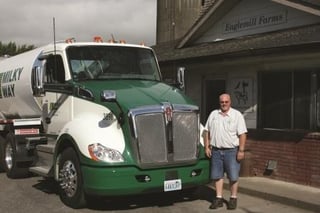 reducing maintenance and improving fuel economy while maintaining payload," he explains. "The new units also provide a much better driving experience for our employees." LTI, Inc. has purchased 74 2018 Kenworth T680 tractors, the same tractor that Lynden Transport Driver John Schank drove across the country to deliver the Capitol Christmas Tree in 2015.

As of early September, 16 new tractors were in service with another 58 to be delivered this fall. The allocation of new equipment is based on demand, according to Dave. "We relocate power units between terminals in an effort to improve utilization and customer service. Since our power units are each assigned to a terminal and activity, we basically do a direct replacement," he says.

LTI, Inc. Equipment Maintenance Manager Jerry Crisp in Sunnyside and the team at Kenworth Northwest in Yakima work together on new equipment "UPFIT" which includes installation of the milk pump box, Peoplenet system, Lynden green vinyl wrap/door decal and equipment numbers, etc. Jerry and his maintenance team, along with Jeff Harris of Sunnyside operations, test run each tractor prior to delivery to LTI, Inc. Service Centers. "Our goal is delivering each tractor ready to work," Dave explains. "This is a major task for all of LTI, Inc., including administration, operations, HSSE, maintenance and specifically the Sunnyside maintenance/operations teams as they continue with day to day operations and the beginning of our harvest season. They get this done while maintaining excellent customer service." Utilization is considered along with a life cycle target of 800,000 miles, although some units run close to 1 million miles prior to replacement. "Today's engines and emissions systems are very expensive to repair and replace so at LTI, Inc., we really don't want to overhaul engines nor replace emissions systems during the life cycle unless absolutely necessary," Jerry explains.

The allocation of LTI/Milky Way's used tractors is also carefully considered. "Our first priority is making sure we have a One Lynden approach regarding the disposal of an asset," Dave says. "Recently we have supported Alaska Marine Lines, Alaska Marine Trucking and Lynden Transport by transferring used tractors to each operation. We also sell direct, through a broker or auctions and we sometimes consider dealer trade-in values."

Milky Way Drivers like Gene Staal of Lynden, WA and Anthony Platas-Tremont of Moses Lake, WA are enjoying the new equipment. "The truck is very comfortable, rides smooth and quiet and has great visibility," Gene says. "This is a quality truck to match Milky Way's quality standards," Anthony adds. "There has been a noticeable mileage increase on my normal route."
Topics from this blog: LTI Inc. Green Lynden Milky Way trucking Drivers