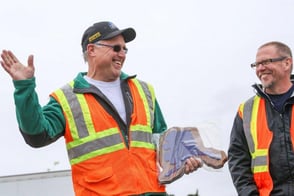 Following in the footsteps of Lynden Transport Driver John Schank of Fairbanks, Brian Ambrose of Alaska West Express was named 2016 Truck Driver of the Year by the Alaska Trucking Association (ATA). Brian's award was presented at the 17th annual ATA truck driving championships in Anchorage where Lynden truck drivers competed. Drivers also competed at a truck rodeo in Kent, WA in June, turning in impressive performances as usual.

"Brian has 36 years of commercial driving experience including 16 with Alaska West Express," says Anchorage Service Center Manager Dave Heston. "And he has more than 3 million miles in the seat and 13 consecutive years without an accident. He has driven all types of configurations on Alaska's highways, including heavy haul up to 13-axles and tankers." Brian has competed in the truck driving championships every year since 2005 and has collected an assortment of trophies including three for state champion and best overall in 2015.

"We are very proud of all Brian has accomplished," adds Alaska West Express President Scott Hicks. "We are even prouder of his work ethic and integrity. Brian is a true professional who represents our company and industry with class."

In the June 18 competition in Kent, WA, Lynden Transport Driver Dan Jenkins competed in the Flatbed Division as a rookie and Brown Line Drivers Vincent Hannick, Carl Carter and Michael Kidrick competed in the Sleeper Berth division.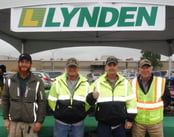 Ten Lynden Transport drivers competed in the Alaska competition, including Jack Sorensen, placing first in the 5-axle Tanker Division, and Tanner Heisler, placing third in the 5-axle Flatbed category. Other Lynden competitors were: Randy Estrada, Chris Hudson, John Phillips, Cody McFarlane, Doug Longerbone, Pha Lee, Stephanie Winder and Jay Capala. Brian Ambrose, David Lambe and Edward Tuia competed for Alaska West Express. Lynden's Deskbound Geezers were on hand to steer Old No. 27 through the cones.