When John Schank started driving for Lynden Transport in 1975, he probably never imagined he would be named the Alaska Truck Driver of the Year, not once, but twice. The Alaska Trucking Association (ATA) presented John's award this summer at a special event in Fairbanks. In addition to that honor, John was recognized for setting a new record as the first Lynden Transport driver to log 40 years of safe driving – 5,360,000 miles to be exact. Starting with the opening of the Dalton Highway in 1975, John has been driving one of America's most treacherous roads: the haul road between Fairbanks and Prudhoe Bay. The haul road is known for extreme grades and extreme weather. John still drives the route today, making the 1,000-mile round trip twice a week.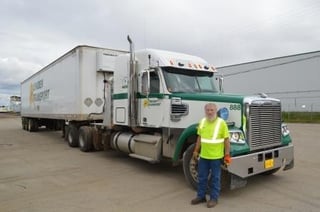 "John is a true professional," says Lynden Transport President Paul Grimaldi. "He was named ATA Driver of the Year in 2014 and participates in the annual ATA truck driving championships each year. He received a letter of commendation in 2014 from former Governor Sean Parnell for his driver of the year award and from Governor Walker for his awards." He also received a letter of congratulations from Joe Marushack, President of ConocoPhillips Alaska, and Janet Weiss, President of BP Alaska, for helping these Lynden customers continue to safely perform their work.

"Receiving the ATA Driver of the Year again this year, along with his award for 40 years of safe driving for Lynden Transport, makes us all very, very proud," says Paul. The highlight of John's career was being chosen to transport the 2015 U.S. Capitol Christmas Tree from Seward to Anchorage and from Seattle, WA to Washington D.C. "It was my honor," John says. "I stopped along the way for community events and met a lot of kids who thought I was Santa taking the Christmas tree to the White House. I'll never forget it."

"For 43 years, John has been climbing behind the wheel and doing his job safely and as the quiet professional," says Lynden Chairman Jim Jansen. "He exemplifies the Lynden Everyday Heroes who consistently, efficiently and safely serve our customers. John has set the standard for drivers on the haul road with a spotless safety record. We are proud of him and his commitment to safety while driving in the most challenging conditions in the nation."