The Lynden companies are looking for a few good men and women to follow in the footsteps of the Lynden Legends, the courageous group of drivers who pioneered service on the Alcan in the 1950s and the hundreds of Lynden drivers who have continued the tradition by driving trucks safely and efficiently through the years.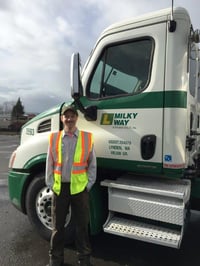 To find them, Lynden launched a driver recruitment campaign last year, headed by Marketing Project Manager Dorene Kolb and Vice President of Employee Relations and Business Development Gail Knapp with the help of an employee committee representing Alaska West Express, Lynden Transport, Alaska Marine Trucking, Brown Line, LTI, Inc. and Milky Way.
"At Brown Line, we have a significant number of drivers retiring or preparing for retirement, so we are taking a proactive position to find the best drivers to replace them. Driver retirements are not only impacting Lynden, but the nation as a whole. Trucks move the goods that keep the country running. It is an extremely important profession and industry," explains Al Hartgraves, National Accounts Manager for Brown Line.
To attract the best and brightest, Lynden developed a brochure and website to spread the word and committee members have attended job fairs at Joint Base Lewis-McChord AFB in Tacoma and other employment events as well as recruiting from trucking schools.
"Our goal is to let people know Lynden is unique in the marketplace. With more than 18 transportation and logistics companies, you can work in a variety of positions and locations. The driving experience is different here and the opportunities for advancement are unparalleled," Dorene explains. "Although we are interested in all ages and those launching second careers, we are also appealing to the millennials in their 20s."
Interviews with summer interns and the drivers themselves have yielded interesting feedback. In addition to good pay and benefits, drivers are also interested in a stable company and upward mobility.
Jered Post, Vice President of Operations for Lynden Transport, took advantage of those advancement opportunities 10 years ago. After starting as a Milky Way Driver in 2005 in Jerome, ID he worked his way up to manag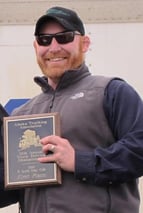 ing Lynden Transport locations in Fairbanks and Anchorage. He later became Director of Operations and was then promoted to Vice President with the company in Seattle. Many Lynden executives started their careers driving, including former Lynden Transport President Jim Beck and Chairman Jim Jansen.
Wyatt Nagle drives for LTI, Inc./Milky Way in Chehalis, WA. "Every day brings a new adventure," he says. "I started out as a night driver picking up milk, and I worked up into driving freight. Now I am the night supervisor. I have no plans to go anywhere else, but if I wanted to, I could go drive in the oil fields in Alaska and Texas. And if I get tired of driving, I can find a different role with Lynden, keep my benefits and status, and start another new adventure."
The recruitment committee is asking Lynden employees to help refer qualified driver candidates. "Every job at Lynden is affected by trucking," Al says. "Everyone plays a part in attracting good people to keep the companies healthy and the freight moving." Go to www.lynden.com/drive for a brochure or a driver interest form.
Topics from this blog: Lynden Lynden Employees Alaska Drivers United States LTL Truckload Ground