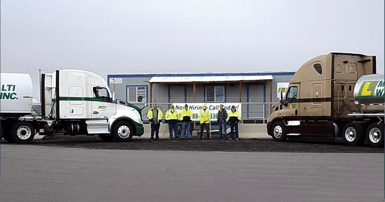 For the past 15 years, LTI, Inc. drivers would head out to local dairies in Bonanza, OR to pick up milk for their customer. But the arrangement changed last year which allowed drivers to take on other projects and serve new customers. LTI, Inc. Vice President of Operations Chae Matta and Regional Manager Greg Tolle immediately started looking for options for the 24-man crew to continue working in the area.

"Unfortunately, our office and yard in Bonanza were more than 50 miles out of route for Lynden's California work, so we found a new 3.5-acre location just south of downtown Klamath Falls," explains Operations Manager John Bailey. "The new location on Highway 97 puts us right in line with the current routes, so it offers new opportunities for the Klamath Falls team."

By late fall, the mobile office, a shed, carport and other equipment were moved from Bonanza to the new space. "It was an all-day process to get everything set in place so we could resume business as usual," says John, "I really appreciate Chae and Greg creating this new opportunity for our team. I see nothing but growth in the future." Employees that came in on a day off to help included Brent Hadwick, Clint Shultz, Hank Walling, Joe Hicks, Sutherlin Driver Supervisor Patrick Murphy and McMinnville Mechanic Terry McCord.