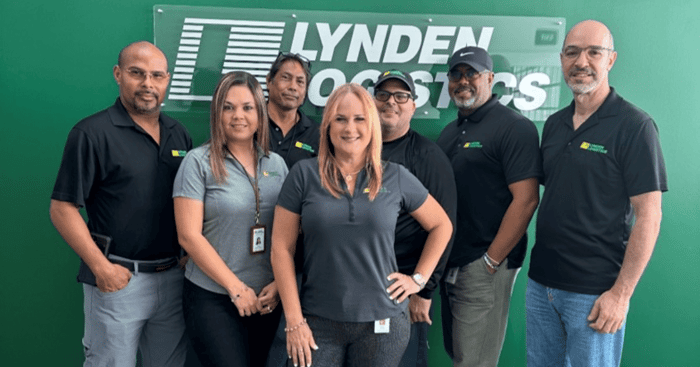 Lynden's Puerto Rico team. From left to right: Luis Figueroa, Jinna Perez, Mario Santos, Maria Rivera, Edwin Gonzalez, Marcos Romero and Emilio Ocasio.
It's Thursday in Pennsauken, NJ, and the Lynden team is making last-minute checks on the freight sailing from the U.S. to the Port of San Juan, Puerto Rico. The same happens Tuesdays and Fridays in Jacksonville, FL. These two consolidation points for Lynden Logistics customers, plus a company owned location in Atlanta, provide an advantage for U.S. shippers in the Northeast and Southeast. "We are one of the very few forwarders that provide two ocean consolidation terminals," says Jose Gil Sanchez-Cruz, Lynden Sales Manager for the Puerto Rico Trade Lane. Two ocean vessels call on the Port of Jacksonville each week with an added economical barge for slower shipments. The consolidation points in New Jersey and Georgia are each served by one vessel.
This strengthened support of customers in the north and southeast and the New York metro area has been rewarded with increased business for the Puerto Rico team. "We're getting requests from all over the world," Sanchez-Cruz says. "We also provide company-owned containers at each U.S. consolidation point for customer use. We are doing everything we can to provide a seamless and smooth shipping experience." A majority of U.S. manufacturers base production facilities in the eastern states. In the past, Lynden has moved heavy equipment and construction materials, but now emerging markets like pharmaceutical, chemicals, food and renewable energy are taking up container space on departing cargo vessels. Puerto Rico also serves as a bridge for shipments going on to the Dominican Republic or other Caribbean Islands.
Over the past 30 years, the Lynden team has seen it all, done it all and shares that experience and knowledge with its customers to customize any shipping, warehousing or logistical need. From shipping and distributing Covid vaccines and dealing with congested ports during the pandemic, to overcoming the devastation of Hurricane Fiona last year, Lynden employees have powered through the challenges and continue to serve a loyal and growing customer base. According to employees, it was rewarding to provide support to contractors rebuilding roads and bridges damaged by the hurricane and to work with the Federal Emergency Management Association (FEMA) on infrastructure repairs.
Prior to joining Lynden, Sanchez-Cruz spent decades working for heavy hitters like DHL, YRC and Crowley. "Multimodal experience is helpful," he says, "but it's not enough to really provide the best experience for a customer shipping to and from Puerto Rico. You have to understand the culture here." With three decades to hone its services, today Lynden provides a one-stop single service with choices of air, ocean, trucking and warehousing and distribution. With 10 employees, a fleet of over 20 trucks and a 35,000-square-foot warehouse, the Lynden location handles shipments coming from the U.S., Far East, Europe, Latin America and other locations around the world. Options vary with some customers picking up their cargo after customs clearance, and others relying on Lynden to receive the freight, clear it, unpack it and store it at their warehouse for later delivery.
Lynden's offices are located in Carolina's Sabana Garden Industrial Park, close to Luis Munoz Marin International Airport and less than 10 miles from the San Juan port. The facility features a covered loading platform to ensure cargo is protected from Puerto Rico's unpredictable weather. Lynden provides intra-island and international import and export services. Lynden recently expanded its Puerto Rico services by hiring employees from Caribbean Express Freight (CEF), a former NVOCC with operations in Jacksonville, Pennsauken and Guaynabo, PR.
Retailers have depended on Lynden for years to make sure store openings and closings go off successfully and products are on store shelves when needed. This is when specific, detailed knowledge of offshore shipping is needed. Customers shipping to and from locations like Hawaii, Alaska and Puerto Rico need a logistics partner who understands the Jones Act, which regulates all maritime commerce in the U.S. A Tax Hacienda regulation specific to Puerto Rico also requires experience and knowledge to navigate for customers with inbound freight.
Long-term customer Mary Kay Cosmetics relies on Lynden month after month for on-time shipments. Paul Woodruff, Supervisor of Mary Kay Support Services, recently received a request from a customer who asked him to thank everyone involved in getting her orders delivered. "Our sales force appreciates Lynden and the effort and care you provide them," he says.
Offshore shipping requires not just specific knowledge but the experience to apply it when needed. "Specific knowledge is definitely needed for hurricane season which peaks the third week of September," says Sanchez-Cruz. "We plan and strategize with our customers and operations team to work around possible delayed and postponed sailings. We have contingency plans so customers can relax. Our job is to take the weight off customers' shoulders and tell them 'We got this'."
Topics from this blog: Lynden Freight Forwarding Puerto Rico Lynden Logistics Air Multi-Modal Ocean International Construction Featured