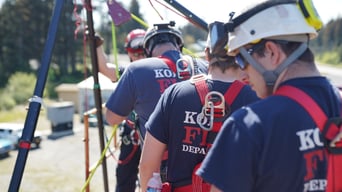 The Lynden Training Center recently conducted a six-day course in Kodiak for the Kodiak Fire Department. "We are extremely proud that the General Technical Rescuer class is the first of its kind to be taught in Alaska for State of Alaska certification," says Tyler Bones, Director of HSSE.

The Fairbanks-based Training Center has been working with the Alaska Fire Marshal's office for the past six months to become accredited to instruct the course. "It's rare that new courses are added to the state's accreditation list, so our training center being the first shows what a great working relationship we have with the state," Tyler explains. In 2015, the Center received accreditation from the State of Alaska Training and Education Bureau as the first third-party provider to offer State of Alaska hazardous materials training, a designation usually reserved for state agencies and fire departments.

The Kodiak Fire Department has received Lynden training for the past two years. Last year, after the department completed the Confined Space Rescue course, firefighters put their skills to the test when responding to a rescue on a fishing vessel.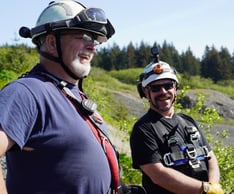 "Tyler and Don have provided incredibly technical and thorough training for our department in both Confined Space Rescue and most recently, the first-ever State of Alaska General Technical Rescuer," says Kodiak Fire Chief Jim Mullican. "Their expertise and professionalism allowed my staff to practice in real-world situations, honing their skills in a positive learning environment. It is a pleasure to work with two top-notch instructors." Don and Jim are pictured to the right during the training.

For more than 20 years, the Lynden Training Center in Fairbanks, AK has provided training to individuals, businesses and government employees all over Alaska and the Lower 48. Experienced Lynden instructors educate, train and prepare people from all industries to work safely, prevent accidents and to respond to disasters like chemical spills, train derailments and other emergencies. Professional development courses with classroom instruction are followed by hands-on exercises and drills in simulated response situations.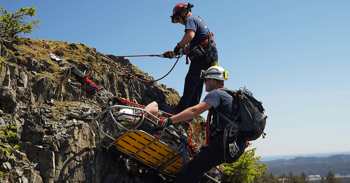 Collectively, Lynden Training Center instructors have over 180 years of experience including transportation, military, oil and gas, industrial, fire and emergency response. Their 'real-world' knowledge includes serving as firefighters, on the front lines of the military and as members of first responder rescue teams all over the world. Lynden trainers offered 107 courses in 2018 and instructed 936 students.

"It is very rewarding to be a part of educating and preparing people for emergency response and to help fire departments like Kodiak serve their community," Tyler says.
Topics from this blog: Alaska West Express Lynden Employees Safety Lynden Training Center Alaska Hazmat