Alaska West Training Center renamed Lynden Training Center; now accredited for national and international hazardous materials response training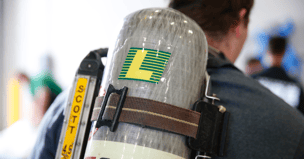 The Alaska West Training Center (AWTC) has a new name and is newly accredited to provide hazardous materials response training that meets national and international criteria. The Alaska West Express Training Center is now the Lynden Training Center and is accredited by the State of Alaska Training and Education Bureau as the first third-party provider to offer State of Alaska hazardous materials training, a designation usually reserved for state agencies and fire departments. The accreditation includes ProBoard, IFSAC and Methods of Instruction (MOI) designations that bring national and international notoriety.
For almost 20 years, the Lynden Training Center in Fairbanks has been providing training to individuals, businesses and government personnel all over Alaska and the Lower 48.
"It was a long process to receive accreditation, and we are proud of our entire team and the relationships we have developed with our partners at the state agencies. We appreciate their support and professionalism as we worked toward this goal," says Tyler Bones, Health, Safety, Security and Environmental (HSSE) Manager at the Center. "It's a great feeling to know that what you teach has the potential to save lives in the workplace."
The Center offers hands-on real-world workplace safety training in hazardous materials transportation, emergency response for hazardous materials, specialized rescue, mining and workplace safety and training on the Incident Command System (ICS).
"We are excited to partner with the Lynden Training Center. Their instructors are professional, highly trained and skilled," says Tori Clyde, Fire Training Specialist for the Alaska Division of Fire and Life Safety. "The Lynden team delivers training and educational courses while enforcing safety as their utmost priority. Their performance during the accreditation process was outstanding."
Collectively, Lynden Training Center instructors have over 180 years of experience including transportation, military, oil and gas, and emergency response. Course offerings vary from fork lift training to hazardous materials transportation, and include specific courses for rescue team personnel. One of the training facility's biggest assets is the ability to simulate real-life emergency situations.
An active railroad track with a variety of rolling stock, including a specially designed roll-over MC306 tanker built by Lynden, is configured to simulate rollovers and many other training situations. Intermodal tanks and other container training props round out the fleet of rolling stock.
The Lynden family of companies' combined capabilities include: truckload and less-than-truckload freight to Alaska, scheduled barges to Alaska and Hawaii, charter barges, rail barges, intermodal bulk chemical hauls, scheduled and chartered air freighters, domestic and international shipping via air and ocean forwarding, customs brokerage, trade show shipping, remote site construction, sanitary bulk commodities hauling and multi-modal logistics. Lynden companies are repeat winners in the annual Quest for Quality customer service awards presented by Logistics Management magazine.
Topics from this blog: Lynden Lynden Employees Lynden Training Center Hazmat International