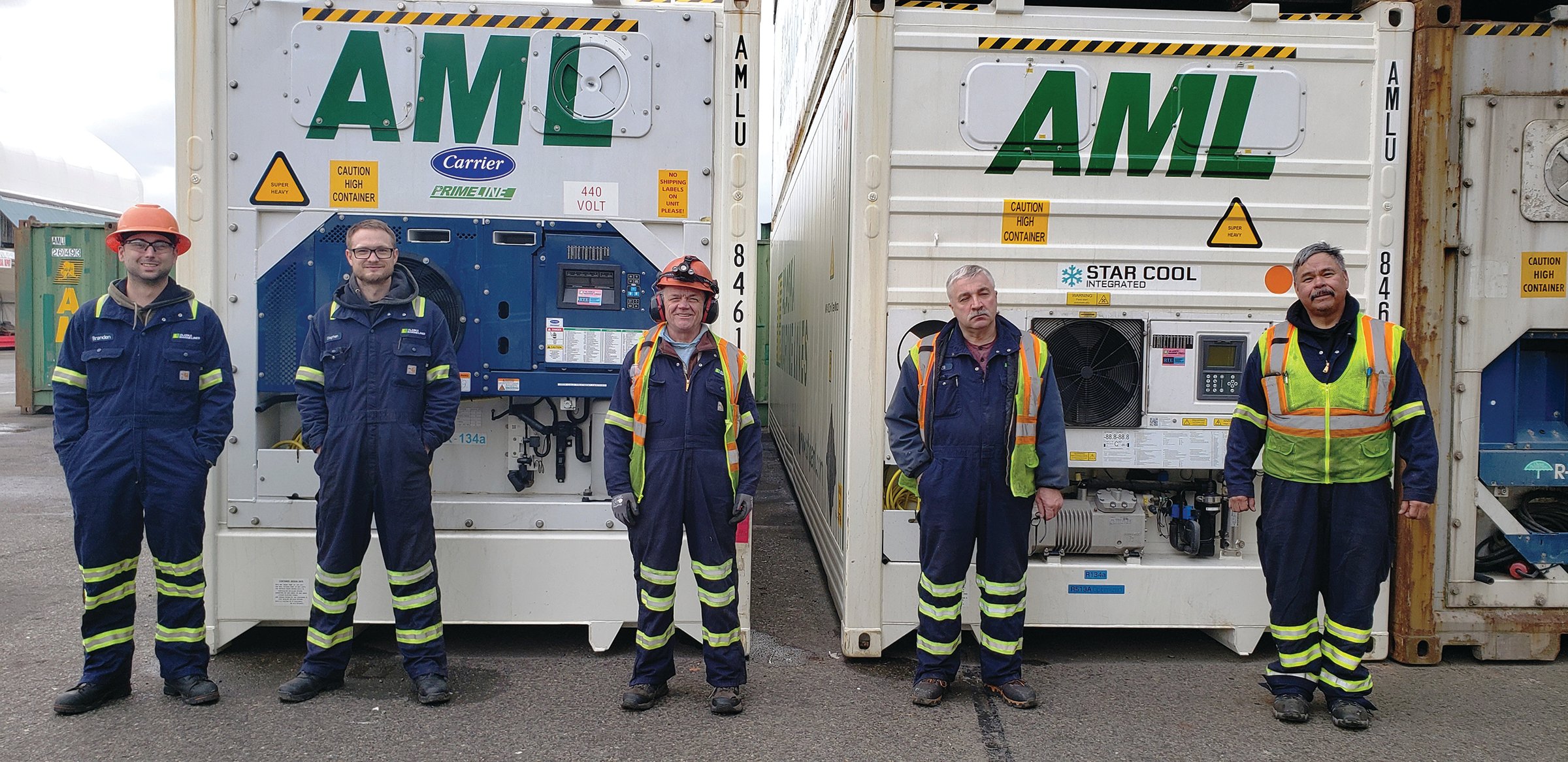 Every fishing season, Alaska Marine Lines refrigeration mechanics (reefer techs) leave Seattle and make the journey north to keep Lynden's refrigerated containers (reefers) in top shape. The techs fly to Alaska and then accompany the loaded reefers on the southbound barges. These ride-along-with-the-reefer trips have been taking place for years, but the voyage of the reefer technician has not been well known. Until now.

Mechanic Greg Restad was so impressed with his off-site assignment that he decided to document his experience. Greg's notes provide a unique look behind the scenes of this annual effort to protect customers' fish and other refrigerated freight and maintain Lynden's equipment. It should be noted that Greg has 30 years of experience working on refrigerated equipment including working for Les Candee and Art Burg at Foss Maritime in the early 1980s.

According to Assistant Maintenance and Repair Manager Steve Tafoya, mechanics check around 3,000 reefers each year during the north-to-south trips. Most reefers last around 20 years, but with excellent care, they can last longer.

"We run a pre-trip inspection anytime a reefer enters the yard so we keep close tabs on all equipment and any emerging problems," Steve says. "It could be power, a leak, burnout of the evaporator motor or something else. The most common issue with reefers is a lack of communication with the tug. Our mechanics also check and service generator sets, make sure gear vans are stocked and that the GRASP reefer monitoring system, all plugs and time share panels are working," Steve explains. Everything is documented and becomes part of the service record.

Mechanics sleep on the tug when the barge is under way or in bunkhouses in Naknek, Dillingham and St. Paul. Meals are eagerly anticipated as the tug cooks are known for their gourmet cooking. "Naknek has a great bunch of guys and good accommodations," Greg says. "They made me feel welcome and fed me well. It's nice when I get a couple days to check out the yard and my units before loading because once they start loading, these guys move. Everyone pitches in to get us in and out of port. I never heard 'It's not my job' even when I had a container I couldn't fix that was located in the middle of the stack. They had to bring in a barge alongside and crane it out of the middle of my barge. 'It's no one's fault; it can't be helped; let's get it done' was their response."

It's not always smooth sailing. Sometimes parts have to be flown in to repair a reefer or an employee needs medical care. One tech was suffering from an abscessed tooth and had to come back to Seattle, so he traded places with the next tech on the list.

And then there are rough seas. On Greg's first outing in Naknek, he was worried when he heard about 16-foot seas on the voyage. "The 70-knot gusts almost knocked me off my feet in the yard, and then they told me we were going to leave," he says. "Thankfully, Captain Eric kept the wind behind us, charted sheltered waters and, by the time we got into the Gulf, the seas had calmed down to 10 feet. The crews were always great. They were polite and forgiving when I wasn't familiar with the program and ran me though the safety procedures and orientation. It was fun to see how fast I could don a survival suit."

Although the reefer techs are away from home for long periods, they are treated to delicious meals like prime rib and salmon prepared by the tug cooks. The views are pretty good, too. Eagles, whales, sharks and porpoises all share air and sea space with the barges and tugs in the North Pacific. For many reefer techs, it's a nice change of scenery from working in the Seattle yard.

"These techs are on the front line making sure our reefers are keeping the fish cold and the perishables fresh," Steve says. "They spend months away from home, family and friends to uphold the Lynden brand of service. We all appreciate the work they do."
Topics from this blog: Green Lynden Seafood Lynden Employees Alaska Grocery Chill and Frozen Temperature-Controlled Ocean AML