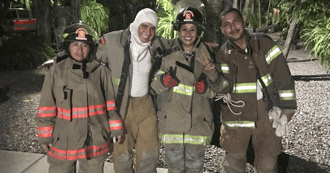 "As I told you when we met, we're probably going to ask a bit more of you than your typical client does, but it will be about things we can do together to help firefighters all over the world," says Deputy Chief Jon Ibrahim of Hearts In Motion and Fire Service International, nonprofits based in Indiana. Lynden Account Executive Ollie Ladd and Ocean Operations Manager Dave McGeath worked with Jon to coordinate the move of a 20-foot container filled with donated firefighting equipment from Hearts In Motion to the San Francisco dock for ocean shipment to Guatemala City. The equipment was bound for some of the world's poorest firefighters in Central America as they combat the aftermath of the eruption of the Fuego Volcano this winter.

Hearts In Motion has been providing firefighting assistance and Emergency Medical Services (EMS) to Guatemala for 35 years as well as Nicaragua, Ecuador and other parts of Central and South America. Ollie, Dave and the Lynden team pulled the Guatemala move together in just one week, working against last-minute deadlines and changing requirements. "When you consider that these donations were sitting in a warehouse and within a week they were loaded into a container and on the sea, it really speaks to Lynden's capabilities, and how employees bent over backwards to help us out, not just with the logistics, but also the communication and walking us through the process," Jon says. "We are going to have a long-term relationship with Lynden because of the personal touch of everyone involved. When I was there it felt less like a business meeting and more like I was just having lunch with a Chicago buddy."

"It is rewarding to know that we had a hand in sending relief to the people of Guatemala who are struggling with the aftermath of the volcano," Ollie says. "Jon tells us the shipment made a huge difference in the lives of the firefighters in Guatemala and El Salvador who can now do their jobs safely and more effectively."
Topics from this blog: Disaster Relief Lynden Logistics Ocean Community International