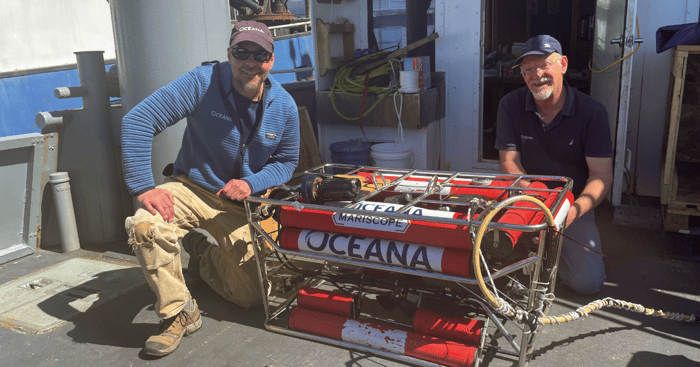 Pictured above: Oceana's Jon Warrenchuk (left) and Matthias Gorny with the ROV onboard the research vessel Island C in Kodiak, AK.

This spring, researchers spent eight days circumnavigating Kodiak Island exploring 23 different sites in search of deep-sea corals and other seafloor habitat areas. "The expedition's goal was to expand our knowledge of the Gulf of Alaska seafloor to support Oceana's ongoing campaign to protect coral, sponges and other sensitive sea life," explains Cheryl Eldemar, Pacific Business Manager for the nonprofit conservation group Oceana.

The star of the expedition was Deep Discoverer, an 1,800-pound Remotely Operated Vehicle (ROV) which captures undersea images with a sensitive camera. Getting the ROV and its four crates of batteries and accessories from Santiago, Chile, to the island of Kodiak fell to Lynden Logistics. "We Alaskans are keenly aware of Lynden's long-term dedication and reputation for providing goods and transportation to Alaska," Cheryl says. "This international shipping project was another example of Lynden's flexibility, patience, persistence and professionalism."

Lynden moved the ROV once before from Chile to Portland, OR in 2013 for Oceana's Oregon Coast Expedition. According to Ahmad Abed Rabuh, General Manager at Lynden's Portland Service Center, things have changed dramatically in the decade since the last move. The pandemic, supply chain disruptions and changes in rules and regulations for transporting batteries and other sensitive goods all affected this year's journey of the ROV from continent to continent.

"We excel at unusual international shipments, but this one required special customs declaration, custom-built crates made from a specific heat-treated wood, separate air freighter transport to Miami for the battery, and a lack of wide-body lift in the South American lane," Ahmad explains. "International Regional Operations Manager Elodie Gergov was instrumental in helping me navigate the South America complications for this shipment." Lynden's John Dill and Fernando and Chanelle Hernandez also worked diligently on the project in Portland along with Matt Kelly in Anchorage.

Once the ROV arrived in Miami, it was trucked cross-country to Portland in three days, then flown to Anchorage. Once in Anchorage, finding another flight to Kodiak proved difficult. Backlogs and freighters being pulled from the flight schedule complicated the last leg of the journey. "With Matt's help, we finally got a flight and delivered the ROV via a ground carrier six hours before Oceana needed it on the boat," Ahmad says.

"Please extend our gratitude to all at Lynden who had a hand in ensuring the Gulf of Alaska Expedition's star player arrived on time," Cheryl says. "Campaigns like this one remain an important tool in the Oceana toolbox as they help us photograph, film and research unique marine ecosystems. We can help the public and policy makers understand just how much is happening below the ocean surface when we share expedition footage. It brings those places to life."


Topics from this blog: Lynden Freight Forwarding Alaska Lynden Logistics Project Logistics Multi-Modal