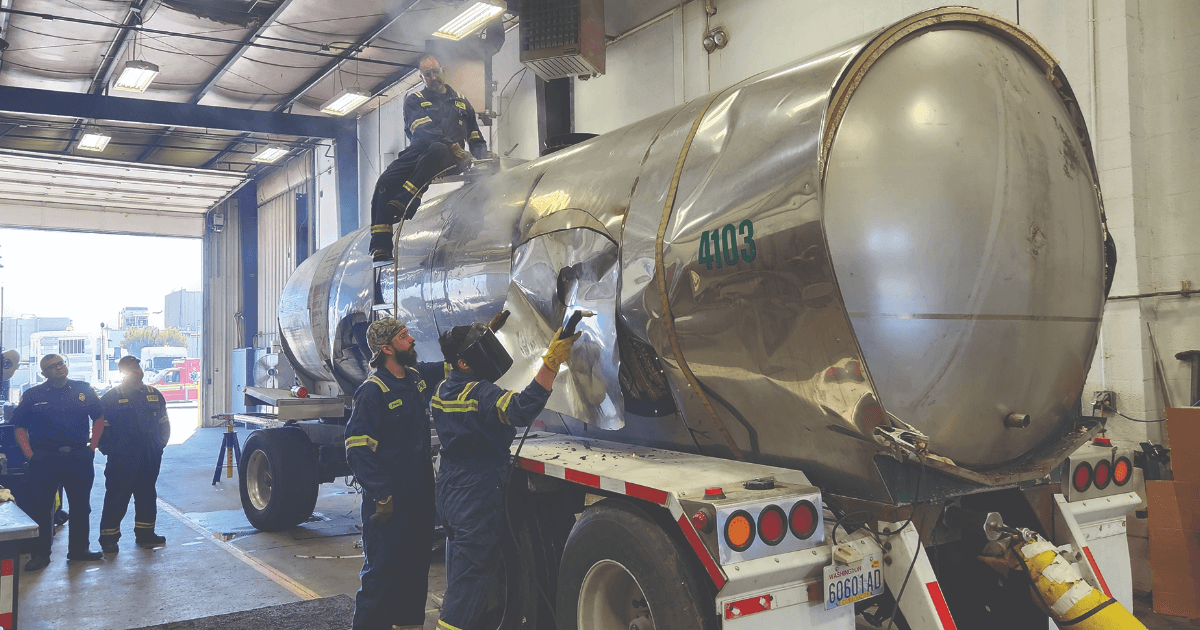 Ethan Tilley (left), Cristian Baltazar and Gerardo Bueno (top) cut a panel from a tanker in preparation for a training exercise.
LTI, Inc.'s Sunnyside team recently completed confined space entry and confined space rescue training at the tank shop. The classroom portion of the training is designed to show employees the hazards that may exist in permit-required confined spaces, how to work safely and meet the regulatory requirements. It presents the procedures which can be implemented to solve some of the problems so that entries can be made in a safe and timely manner. Emphasis is placed on risk assessment, using air monitoring instruments, ventilation procedures and permitting process of confined spaces.
LTI, Inc. Weld Shop Maintenance Manager Jiovani Rodriguez invited the Sunnyside Fire Department to become involved as an opportunity to share information about LTI, Inc. operations and the potential hazards faced on the job. This joint exercise allowed both groups to practice hands-on confined space rescue skills and establish a working relationship. The training was coordinated and lead by Lynden's Director of HSSE Jim Maltby, LTI, Inc. Director of HSSE & Compliance Anthony Knapp, and LTI, Inc. HSSE & Compliance Manager Western Region Bill Smith.
Using a tanker that was placed out of service for the exercise, employees used a plasma cutter to cut an opening in the tank to gain access to a simulated victim (see photo above). Firefighters assisted with a K-12 saw from the fire truck. "This was a great learning opportunity for both our employees and the fire department," says Jim. During the first evolution the LTI, Inc. employees discovered that the primary plasma cutter was not working properly and had to put into service a new plasma cutter. During the fire department's first attempt, they realized that the blade on the K-12 saw could not cut into stainless steel, so a new blade was installed. The fire department captain stated, "this is why we train."
"Typically, fire departments don't get hands-on training cutting into cargo tanks, so this was a great opportunity for information sharing and gathering new ideas between both parties," Jiovani says. "It's important to all of us at Lynden to be involved in the community and build strong relationships. We would like to express our gratitude to Jim, Anthony, Bill and the Lynden Training Center for putting this event together. We look forward to more trainings in the future."
Topics from this blog: Lynden LTI Inc. Lynden Employees Safety Lynden Training Center Featured