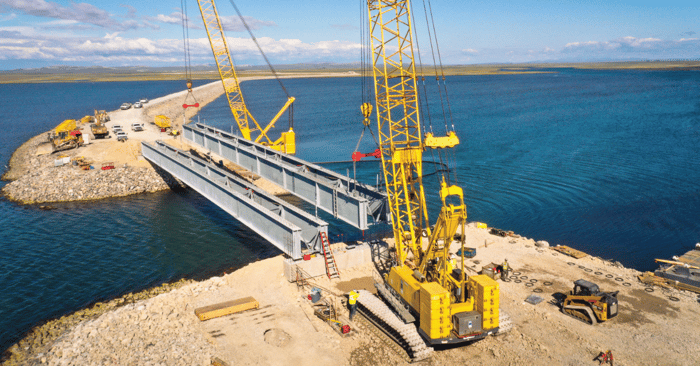 Although all Lynden shipments are important, it's not every day that Alaska Marine Lines transports cargo used to build an evacuation bridge for an endangered Alaskan community. The long-awaited Kivalina Bridge, connecting the Western Alaska village of Kivalina to the mainland, was completed last spring by Lynden customer ASRC Civil Construction with support from Alaska Marine Lines.

For decades, the small coastal community of Kivalina has been working with a variety of agencies to address threats of coastal erosion and flooding. The bridge and an 8-mile gravel road are part of the Kivalina Evacuation and School Site Access Road project which provides residents an evacuation route in the event of a catastrophic storm or ocean surge.

"We first started talking about building a road and bridge for the community several years ago," says Mike Morris, Alaska Marine Lines Account Manager. "Now the road and bridge are done, and a replacement school project followed. We have moved building materials, equipment and other supporting freight for all three projects."

Getting freight to a remote village on a small spit of land is no small task. The projects required a combination of mainline barge sailings from Seattle and Anchorage to Nome, and from Nome, numerous landing craft voyages for additional inter-port moves. Each landing craft can transport up to 400 tons of cargo, which came in handy for the rock trucks, excavators and huge steel girders needed to build roads and the bridge.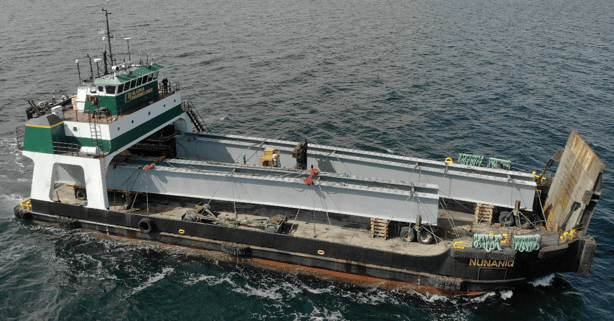 "We have worked with ASRC for many years, so we knew what was expected and got right to work building loads and coordinating sailings," Mike says. The first load of girders left Seattle aboard the landing craft Nunaniq. "It was a challenge to figure out how to load steel girders that were 104-feet long onto a landing craft with a 100-foot deck," says Brian Ward, Western Alaska Marine Operations Manager. "For me, that was the toughest piece of this move."

In Seattle, Brian, Tom Crescenzi, Zed Runyan and Oliver Zidek came up with a dolly system that bolted two girders together for the support needed for the 100-ton weight.

A long, cold winter presented another challenge for the crews. "That year we were fighting ice, and spring had been slow to come," Mike says. "Our summer season for serving Western Alaska and the surrounding villages starts in early April to mid-May, and even later in places like Kivalina above the Arctic Circle, but it's always contingent on Mother Nature."

Beginning with Bristol Bay, nine scheduled sailings, with multiple shuttle voyages, provided delivery to approximately 80 different coastal and river villages.

"We are happy to be a part of improving the quality of life and accessibility in remote locations. We pride ourselves on being able to help communities by bringing in needed equipment and supplies to complete civic projects, like the school improvements in Kivalina," Mike says.
Topics from this blog: Lynden Alaska Project Logistics Multi-Modal Ocean Construction AML