Lynden supports Ward Village construction and other projects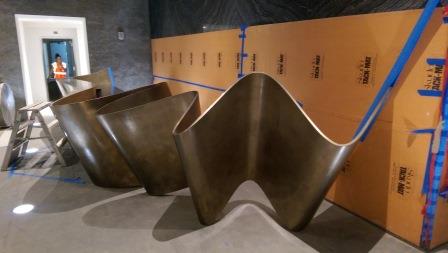 Lynden Logistics caught the wave—and made sure the wave caught the flight from London to Honolulu. A 30-foot-long custom desk designed to resemble undulating water, the 'wave' is one of countless items Lynden has shipped to Honolulu for the construction of Ward Village, a 60-acre master-planned community boasting 4,000 residences and more than a million feet of shops, restaurants and entertainment venues.

"We were contracted to provide furniture, fixtures and equipment for all the public space for Ward Village, including the penthouses and the pool area," explains Randy Gentz, President of Hospitality Freight Company (HFC) in Las Vegas. "The oversized desk for the lobby was a beast and one of the most difficult things we have ever asked Lynden to ship for us—in the dimensions, 30 feet by 8 feet, fragility and its value of $250,000." Designed in England and made of resin, the wave arrived in Honolulu in a special crate. Due to its size, it required a sky crane to set it in place and secure it into position. With Lynden's help, HFC this and other work for Ward Village by the deadline.

In addition to unique designer desks, Lynden ships flooring, appliances, furniture, bathroom fixtures and other freight to support the hotel industry. HFC is a freight company dedicated to providing its clients with the best possible freight rates and service on hotel furniture, fixtures and equipment (FF&E). The company has counted on Lynden to make good on its promises for 32 years. For Ward Village (pictured above), Lynden moved domestic freight to its Los Angeles warehouse where the team consolidated weekly air and ocean shipments to Hawaii as the construction schedule dictated. The pieces included unusual items like an oversized dining table that required removal of a window for crane placement inside an upper floor unit.

Late last year, HFC also completed the 38-story Ritz-Carlton Residences in Honolulu and is currently at work supplying materials for the Wilshire Grand project, a 73-story, 900-room hotel on Wilshire Boulevard in Los Angeles. When completed, it will be the tallest hotel west of the Mississippi.

Lynden has provided warehousing, shipping and deliveries for the project from the beginning and will continue until it is finished this summer. "I choose Lynden because they perform," Gentz says. "From providing quotes quickly to all the weird stuff that comes up with international air and ocean freight, they are always flexible and creative. Looking down the road, we may be working on a years-long monster project 20 times the size of Ward Village. Lynden was the first company I thought of to ship the variety of freight needed."

Two years ago during the West Coast labor dispute, Lynden's creativity came into play. HFC was facing delays at U.S. ports and needed to move FF&E from Vietnam to Chicago for a hotel grand opening. "By routing ocean shipments to Prince Rupert, B.C. then rail, the less-urgent cargo was on its way and we avoided U.S. ports," remembers Dave McGeath, Ocean Operations Manager in Seattle. Commercial flights and a chartered 747-400 freighter from Vietnam were used for the hottest shipments and overflow.

"Our goal is to create partnerships that make our customers successful and allow them to get those 'heads on beds' by hotel deadlines," explains Charlie Ogle, Lynden's Senior Director of Global Sales.

Hotel-condo conversions, hotel renovations and construction of new condominium hotels with mixed use space are sweeping the U.S. In some markets, like Miami, there has been a 15 percent reduction in hotel rooms as they are repurposed for condos.

Whether condos or hotels, the freight deadlines are non-negotiable. "These projects are high touch and high pressure," Ogle says. "They are notorious for running late due to late signoff of designs, funding and manufacturing delays. Materials orders are often placed when projects are already behind schedule. Customers look to the logistics provider to save the day. That's when our multi-modal mix of transportation comes into play."

Lynden's array of air, sea and surface choices allows customers to create customized domestic or international transportation plans to accommodate a mix of slower moving freight as well as expedited cargo. "We often move furniture from the manufacturer's factory overseas all the way through to delivery at the project site or project staging warehouse," Ogle says. In the event of time critical FF&E air transport or expedited domestic shipments, trucking can be arranged so that hotel equipment installation schedules are kept on schedule.

The ramifications of late or missing freight in the hospitality industry can be serious business. Hotel owners cannot afford to turn away confirmed guests due to a renovation project running behind. "Our job is to make sure the FF&E is there on time. Since we are the last cog in the procurement wheel it's up to us to proactively follow the customer's shipments and make adjustments mid-stream if necessary to meet installation deadlines," Ogle explains. "We design the solution around the needs and desires of our customers."
Topics from this blog: Hawaii Lynden Logistics Oversized/Heavy Haul Multi-Modal Ocean International Construction 3PL