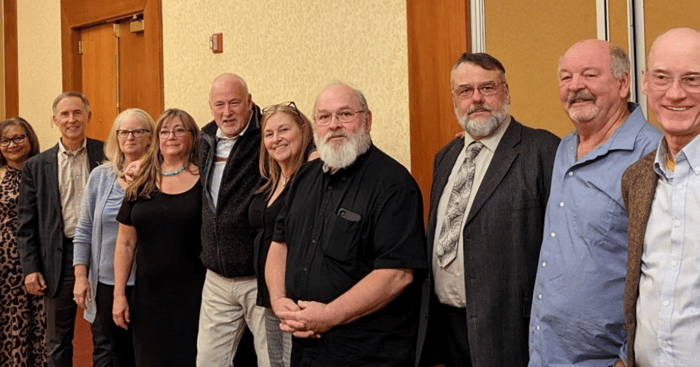 From left, Mila Mina, Brad McKeown, Gina Gable, Becky MacDonald, Kevin Anderson, Gail Knapp, Billy Smith Jr., Robert Hines, Gordy Lindblad and Peter Roman at a retirement celebration in Seattle.

Chassis Mechanic Robert Hines ends his career after 34 years at Alaska Marine Lines. "I have worked on so many projects and barges during my career in the van, refrigeration and forklift shops. I'm proud to know that my work will be around for a long time to come," he says. Robert and his wife are building a house in Ocean Shores to spend time with family. He looks forward to working in the shop, fishing, crabbing and traveling to Italy.

Becky MacDonald spent 37 years serving Lynden customers. She started in 1985 at Alaska Marine Lines as a Rates and Billing Supervisor then moved to Lynden Logistics Services in 2010. She leaves a legacy of developing intermodal service for Alaska Marine Lines and building Lynden's relationship with the Tesoro/Marathon Petroleum companies. Her retirement plans include getting a dog, fishing, archery and other hobbies.

Flight Engineer Billy Miller joined Lynden Air Cargo in 2000 after 24 years on C-130s in the U.S. Air Force. "Lynden had just picked up their fifth plane and were busy flying out of Detroit hauling car parts around the clock along with two military contracts in Japan and Germany," he says. "Since then I have flown in support of U.S. military missions in the Baltics region, Afghanistan for Enduring Freedom after 911, and flown UN food relief through the World Food Programme. I've had a blast working for Lynden, and I'm glad I had a chance to continue flying after my Air Force career was over," he says, "I've seen some beautiful countries and had some great flying experiences."

Director of IT Infrastructure and Security Ken Kinloch started his Lynden career in 1994, stayed for four years and left to follow other paths, including teaching at the University of Washington. After a 20-year break, he returned to Lynden in 2017 to build a cybersecurity program in IT and modernize the company's IT infrastructure. He is retiring to Thailand where he has a home on 20 acres near the beach.

Mila Mina's career began in 1988 as a Freight Payables Specialist. She retires as an Accounts Payable Specialist for financial services at Lynden, Inc. "My favorite memory is the fishing trip I took to Alaska," she says. "Fish Camp was a once-in-a-lifetime experience that I will never forget." In retirement, Mila will travel to the Philippines, remodel her home and care for her granddaughter.

Larry Coleman spent his 20-year career in Southeast Alaska with 18 years of Arrowhead Transfer experience behind him. He managed Alaska Marine Trucking's Service Center in Craig before he moved to Anchorage and eventually Cordova as Service Center Manager. Larry was instrumental in the early years as the Central Alaska Service Lane was put into place, and he mentored many employees along the way.

Jim Holley retires as Alaska Marine Trucking Cordova Service Center Manager. Over the past 20 years, he managed the shuttle barge Krystal Sea / Cordova Provider in Prince William Sound, and he worked with seafood customers in Cordova through some epic fish seasons. Jim and his wife are planning many RV adventures in retirement.

Billy Smith Jr. started out as a vendor for Alaska Marine Lines and was later hired as a welder fabricator in 1995. "I have worked on chassis, dry containers, reefers, forklifts and generators," he says. "It's been a good long career, and I am thankful that I was able to work for a very generous company."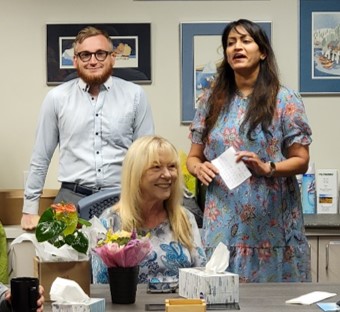 Barbara Ward is pictured, center, at her retirement gathering in Seattle with Josh Bandy and Vidhu Tenneti standing behind.
Barbara Ward held many positions in her 25 years with Lynden, including Manager of the System Admin team and Help Desk Manager. Her last position was Application Manager, Maintenance. Barbara's bucket list destinations include Las Vegas for Raiders games, Texas to see the hummingbird migration over the Gulf of Mexico, and Thailand to visit her brother Ken Kinloch.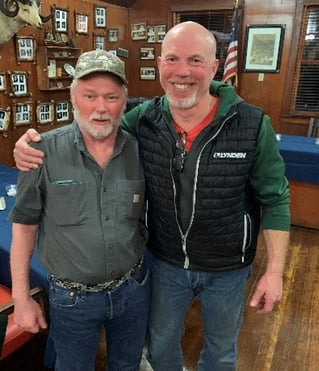 Retirees Bill Bell (left) and Jim Holley.

Other retirees include:
Amanda Cooke, Lynden, Inc., Seattle
Billy Boyd, Lynden Air Cargo, Anchorage
Carlos Mendoza, Lynden Air Cargo, Anchorage
Clifton Ayers, Lynden Air Cargo, Anchorage
David Long, Lynden, Inc., Seattle
Debbie Olendorff, Lynden Logistics, Anchorage
Gina Gable, Alaska Marine Lines, Seattle
Gordon Lindblad, Alaska Marine Lines, Seattle
Jim Earl, Alaska West Express, Tacoma
Kip Machos, Alaska West Express, Prudhoe Bay
Paul Zaragoza, Lynden Air Cargo, Anchorage
Peter Roman, Lynden, Inc., Seattle
Roberta Avila, Lynden Air Cargo, Anchorage
Scott Lawrence, Lynden Air Cargo, Anchorage
Scott Vaughan, Alaska West Express, Fairbanks
Steve Willford, Alaska West Express, Fairbanks
Timothy Martin, Lynden Air Cargo, Anchorage
Tony Vitoff, Lynden Transport, Portland
Warren Peterson, Lynden Air Cargo, Anchorage
William Bell, Alaska Marine Trucking, Cordova
Topics from this blog: Lynden Alaska Marine Trucking Alaska West Express Lynden Air Cargo Lynden Employees Lynden Transport Lynden Logistics AML Featured