Lynden is recognizing employees who make a difference every day on the job and demonstrate our core values, Lynden's very own everyday heroes! Employees are nominated by managers and supervisors from all roles within the Lynden family of companies.

Introducing Carolyn Smith, Customer Service Manager at Alaska Marine Trucking in Juneau, Alaska.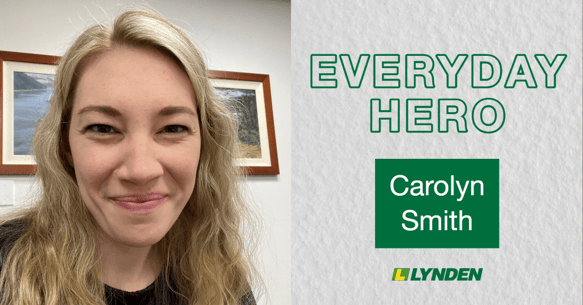 Name: Carolyn Smith

Company: Alaska Marine Trucking

Title: Customer Service Manager

On the Job Since: 2014

Superpower: "We can do that!"

Hometown: Juneau, AK

Favorite Movie: The Italian Job

Bucket List Destination: Croatia

For Fun: Jeeping

How and when did you start working for Alaska Marine Trucking? Have you worked for or done projects with other Lynden companies?
I actually applied to work in our warehouse as Freight Ops, but was offered an office position instead, and took it. It was a few months after Alaska Marine Lines acquired Northland and work was off the chain, I've loved it ever since. I'll be a Lynden gal until I'm 80. I enjoy helping anyone anywhere anytime — if that includes special projects, I always volunteer. Alaska Marine Lines always grants opportunities to those willing to get 'er done.

What is a typical day like for you?
Juggling. I love being a resource to customers, but also to all the other departments in Juneau. At the end of the day, we're moving freight — success is doing that as a team. Problem solving is my passion.

What has been most challenging in your career?
Learning that managing people isn't about treating everyone equally; but rather, about treating everyone fairly. That and honing my ability to communicate effectively with all different kinds of people. Figure out what makes a co-worker or a customer "tick" and you've got a recipe for being an effective leader.

What are you most proud of in your career?
I'm proud of the time and sacrifice I've given to Alaska Marine Trucking over my years. It's been harder to do that with an infant this year, but the company has been so supportive, and I hope I've made that a worthy investment.

Can you tell us about your family and growing up years?
I'm the youngest of 6 kids and grew up watching all my older siblings make mistakes that I tried to learn to avoid ahead of time. Consequently, I enjoy watching people and listening to their struggle. Makes you feel less "picked on" when you can see/understand what others have gone through. I'm tight with my family. I don't live near most of them anymore, but I've always enjoyed the rambunctious gift that my parents gave me: a big family that loves each other.

What was your first job?
I had a newspaper route when I was in 5th grade and I grew up cleaning carpets with my dad. He was a small business owner that ran a Chem-Dry franchise. That instilled a work ethic in me at a young age.

What would surprise most people about you?
I don't know how to swim! It's never stopped me— I've done whitewater rafting in the Colorado and the Green Rivers, snorkeled in Saipan, and jet skiing at Lake Havasu. I just bring a floatation device.

How do you spend your time outside of work?
These days I spend all my time outside of work with my husband Josh (who also works at Alaska Marine Trucking in Juneau) and baby Bridger. They are the BEST and truly a joy in my life. I'm grateful for both of them!

What do you like best about your job?
I like the atmosphere! I like having a laugh after a stressful afternoon freight cutoff. I like contributing to our local economy and being depended on for our services.
Topics from this blog: Lynden Alaska Marine Trucking Lynden Employees Everyday Heroes Featured