Lynden is recognizing employees who make a difference every day on the job and demonstrate our core values, Lynden's very own everyday heroes! Employees are nominated by managers and supervisors from all roles within the Lynden family of companies.

Introducing Bill Bell, Driver at Alaska Marine Trucking in Cordova, Alaska.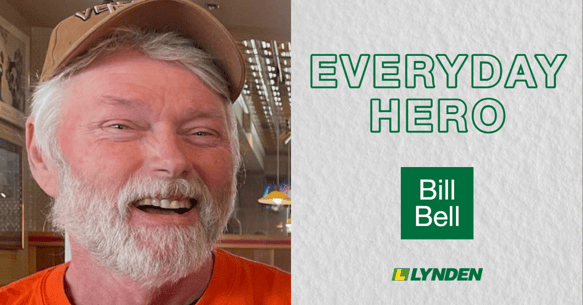 Name: Bill Bell

Company: Alaska Marine Trucking, Cordova

On the Job Since: 2003

Title: Driver

Superpower: Can fix anything

Hometown: Azalea, OR

Favorite Movie: Anything with John Wayne

For Fun: Fishing and hunting

How and when did you start working for Alaska Marine Lines?
I started working for Alaska Marine Lines in 2003. I moved from Oregon to Cordova and they needed somebody with a Commercial Driver's License (CDL). I started as a driver and quickly learned how to run the heavy machinery that is used to move the containers around the yard and to load and unload the barge. Jim Holley hired me.

What is a typical day like for you?
I get up about 7:30 a.m. and get to work at 7:45. My commute is only about 3 minutes. I'm usually the first one there. I check to see if the barges are in. If so, we take care of that first. In the summer we work long hours, sometimes 12-hour days with split shifts. When the fish are coming in, from early July to first part of September, everyone works longer hours pulling containers of fish, loading and unloading. Drivers will take the 8 a.m. to 8 p.m. shift and another driver the 8 p.m. to 8 a.m. shift.

What has been most challenging in your career?
Keeping up with technology and living in a remote part of Alaska where there is a wait for parts to repair equipment. If a bull (forklift) is down, we have to bring one in from Whittier or wait for parts from Anchorage or Seattle. In the summer, Cordova's population might be 3,500, but in the winter it shrinks to about 1,500 people. It's a fishing village, so a lot of fisherman take off in the winter. The cannery workers come back in summer. That change sometimes makes it challenging to live and work here.

What are you most proud of in your career?
My commitment to Alaska Marine Lines and how I easily adapt to changes and additional responsibilities in my job.

Can you tell us about your family and growing up years?
I grew up in the boondocks near Azalea, OR, in a family of three kids. I was in the middle with a big sister and a little sister. My dad was a mechanic. He worked seven days a week and had to drive an hour to get to work so we didn't see him much. My mom was a secretary for the company he worked for, so we were latchkey kids. We got home about 4 p.m. from school, fed the animals and milked the cows. We had nine acres with a couple of pigs and four cows. Our bus ride was one hour each way to get to school. In high school, I played trumpet in the marching band and was on the wrestling team at the 106-pound weight class.

I rode bikes and dirt bikes. In the summer, we would ride eight miles each way to play with cousins and go swimming. We had a lot of freedom and spent summers in the swimming hole.

I joined the Navy right out of high school and shipped off to Pennsylvania where I spent almost two years in drydock. From 1982 to 1986, I served as a boiler technician. We went to Spain and Japan. After I got out, I worked for a local lumber company, then a pipeline company running machinery. I earned my Commercial Driver's License (CDL) during that time.

What was your first job?
Bucking hay bales.

What would surprise most people about you?
I have a huge movie collection – around 500 titles – mostly of westerns and action films. I really like John Wayne movies and anything about the military.

How do you spend your time outside of work?
I hunt and fish. I hunt elk, deer and moose and fish for Cohoe, Silvers, and halibut. I also work on cars. I take parts from other cars and put them on my Toyota truck. Kind of like a Frankenstein truck.

What do you like best about your job?
I really enjoy hanging out and talking with all the people in the office. It's a family atmosphere and a family-oriented company.
Topics from this blog: Lynden Alaska Marine Trucking Lynden Employees Everyday Heroes Featured