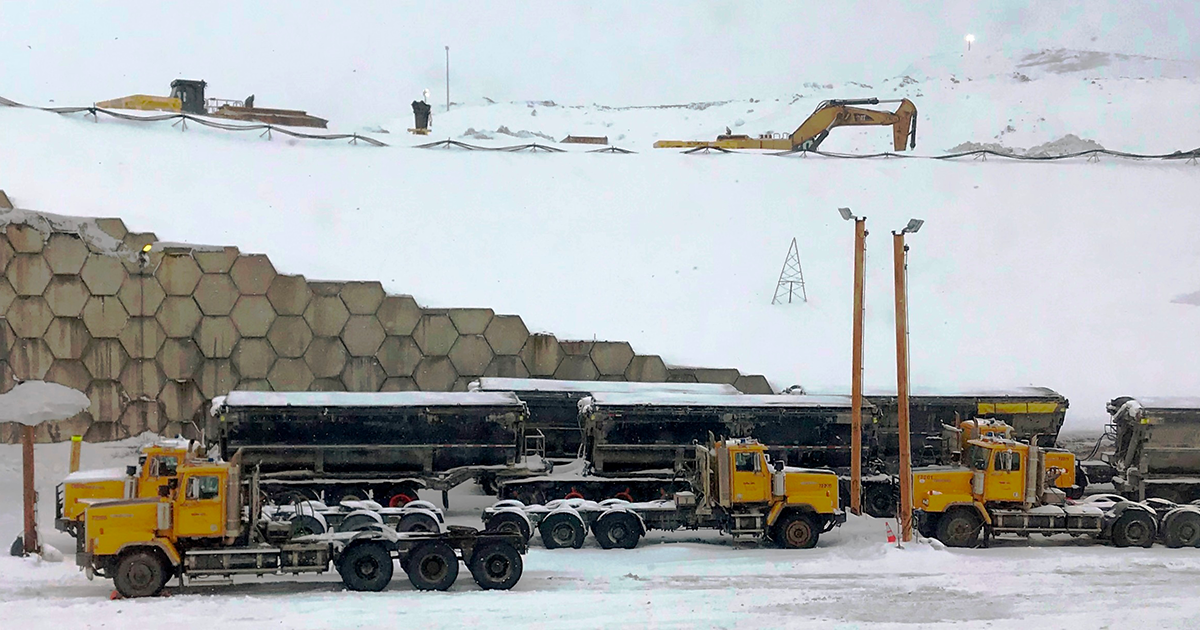 Twenty years ago, NANA/Lynden Logistics Services, LLC successfully bid and took over the onsite trucking services for Red Dog Mine near Kotzebue, AK. The services include hauling ore concentrates, freight and fuel for the mine, which is one of the largest zinc mines in the world. In the past two decades, a core team of 50 drivers and mechanics have hauled over 57 billion pounds of zinc and lead concentrates, 320 million gallons of fuel and 1 million tons of freight between the Red Dog Mine and port site 52 miles away.

"When we took over in 1999, we inherited tractors and trailers from the prior contractor and immediately saw an opportunity to improve the equipment to a more stable, environmentally safe and productive design," explains General Manager Mark Tatlow. "We switched from a 9-axle tractor trailer set with a dolly to an 11-axle trailer set with the rear trailer connected directly to the lead trailer. This allowed us to increase our payload from 170,000 pounds to 280,000 pounds. We eliminated the dolly and pintle hitch between the two trailers so they are connected by a single connection point for increased stability. We also added a solid lid to the trailers and eliminated the side dump doors to reduce dust escaping during transport."

In 2008, NANA/Lynden improved the trailer design again to increase payload. The 91-foot train with 12-axle tractor trailer sets allows hauling of 295,500 pounds of concentrate – 15,500 pounds more than the 7-axle sets and a 74 percent increase in payload over the last 20 years. "We've probably got the best ton-mile-per-gallon numbers of anyone in the country, even though the return trip is empty," Mark says. For comparison, the payload of a typical highway truck is about 40,000 pounds.

In 2000 the team switched to a single 25,000-gallon trailer for fuel transports, allowing for 10,000 more gallons of fuel to be transported with each trip. The tanker was overbuilt with external rings to strengthen the barrel and stainless steel to resist corrosion (see photo below).

Along with the improved efficiency of the mine operation, safety and accidental spill rates have improved dramatically. With only 15 incidents in the last 20 years, this represents a 342 percent improvement over the former operator.

"We are proud of our partnership with NANA and the shareholder and non-shareholder drivers and mechanics at the mine. Each day they safely and professionally operate specialized equipment in the harsh Arctic environment and have contributed to the dramatic improvements we have seen over the past two decades," Mark says.

Topics from this blog: Alaska Lynden Logistics Mining Oversized/Heavy Haul Project Logistics