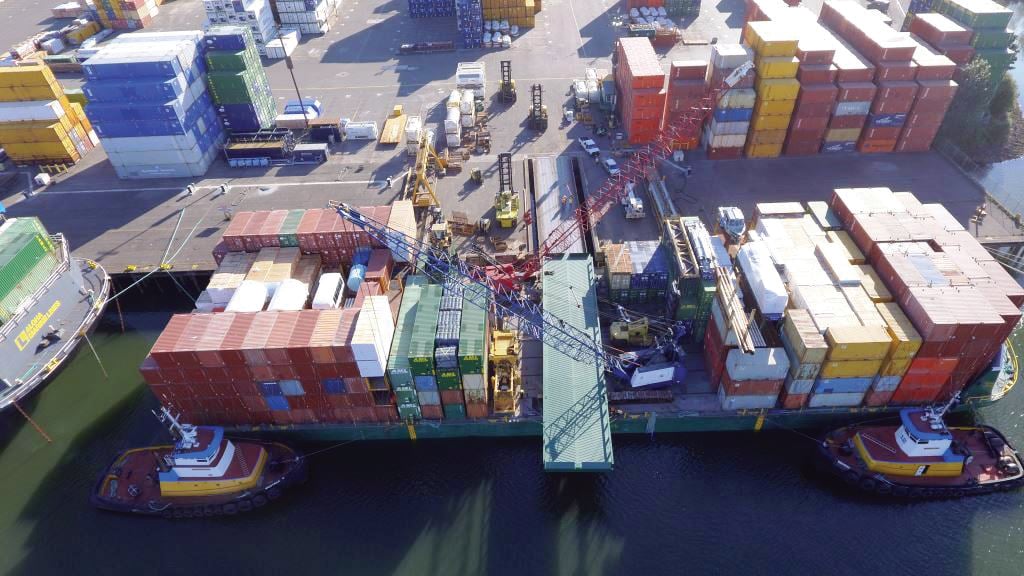 Landing ramps are essential marine equipment in Southeast Alaska. The massive steel ramps connect the barge to land, allowing for the safe and smooth transfer of freight at Southeast ports. This summer, Juneau received a new ramp built by Lynden's long-term partner Western Towboat. The Juneau ramp – 120-feet long, 24-feet wide and 243,000 pounds – took six months to build in Seattle. Two cranes were needed to lift it from the Western Towboat yard onto the barge.

Ramps must hold up under the weight of 165,000-pound forklifts hauling payloads of 90,000 pounds or more, day after day. "We use them multiple times a day so quality is extremely important in their construction. We know we can count on Western Towboat's integrity in building our ramps and that they will last for years," says Juneau Service Center Manager Mike Payne.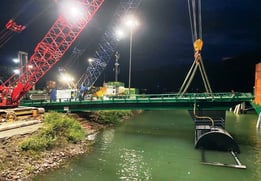 After construction at Western Towboat's Seattle yard, the Juneau ramp was barged to Alaska Marine Lines' Y-5 terminal. The ramp's 90,000-pound tank was built in Ketchikan by Vigor Shipyard. It also needed a ride to Juneau and was delivered ahead of the ramp.

"The new ramp is working great. Western Towboat has the best fabricators around," says Marine Operations Manager Joe Purcell. "The whole team did an amazing job getting this done with no delays in barge service to Juneau. We pulled the old ramp out at noon on a Thursday and had the new ramp operational at 2 a.m. Sat., July 4. We had to wait for the high tide Friday night to lift it into the water."

The old ramp is still undergoing repairs in the Juneau yard and is expected to be set in Haines later this year. Western Towboat has built ramps for Alaska Marine Lines ports in Ketchikan, Cordova, Petersburg, Seattle, Whittier and Haines.