Lynden Transport's 20th award and fourth consecutive No. 1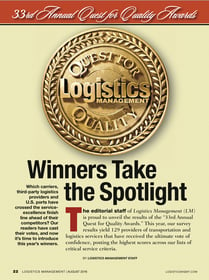 Lynden Transport was awarded its fourth consecutive No. 1 ranking and its 20th overall Quest for Quality Award in the 2016 awards issued by Logistics Management magazine. Lynden Logistics also earned a No. 1 ranking for the second consecutive year and its 15th Quest for Quality Award.
Lynden Transport ranked highest among Less-than-Truckload (LTL) western regional carriers and Lynden Logistics was the winner among Airfreight Forwarders. Lynden Transport received the highest scores in the information technology, customer service, and equipment & operations categories and topped the overall weighted scores. Lynden Logistics was rated highest in the performance, value and customer service categories with a weighted score well above the other national and international airfreight forwarders.
"When you consider the challenging environment for transportation and logistics service providers, earning a No. 1 ranking is quite an accomplishment. We are very proud to be at the top year after year," says Lynden Transport President Paul Grimaldi. "We celebrate this achievement with our dedicated employees who provide quality service to our customers each day."
"We thank our customers for recognizing us again and our employees for taking good care of our customers and earning a top ranking for a second consecutive year," says Lynden Logistics President John Kaloper. "This prestigious award reflects our commitment to providing quality service, on-time performance and value to our customers."
For more than three decades, Logistics Management's Quest for Quality Award has been regarded as the most important measure of customer satisfaction and performance excellence in the transportation and logistics industry. The results are the culmination of a six-month survey of 4,725 ballots cast for the 'best of the best' in service across a number of critical criteria, including: on-time performance, equipment & operations, value, information technology and customer service. To be a winner, a company had to receive at least five percent of the category vote. Voting is by invitation only and the voter must have had experience with that particular provider at some point over the past year.
Topics from this blog: Freight Forwarding Awards Lynden Transport Lynden Logistics LTL Air