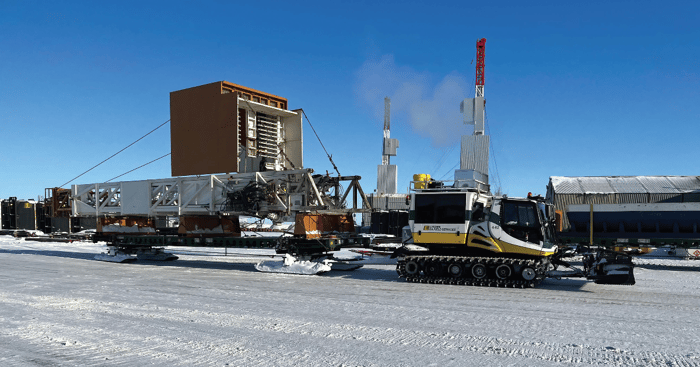 Lynden PistenBully (PB600) hauling Doyon Drilling's Arctic Fox derrick.
Oilfield activity slowed during the pandemic, but work is rebounding on the North Slope of Alaska. Winter hauling season is in full swing at Prudhoe Bay, and Lynden Oilfield Services (LOIL) is busy supporting new and existing customers. "We are expanding dramatically in our oil and gas support contracts for services and equipment to the North Slope producers," says Roger Wilson, Lynden's North Slope Business Development Manager. "We provide support for drilling contractors, chemical suppliers, camp support, construction, and all phases of resource activity on and off the road system throughout the North Slope and offshore Alaska."
"Projects were drawn down to a bare minimum over the past two years, but that burden has been lifted and the delayed projects are now under way," Roger says. Alaska's North Slope activity continues grow, focused on the redevelopment of existing fields and expansion into new resource areas. However, Lynden's long-term relationships with oil and gas customers continue such as support of the Kuparuk and Alpine projects for ConocoPhillips.
Increased volumes and expansion to fields beyond Deadhorse require additional logistics support. There has been a significant increase in rentals of Lynden's 16,000-gallon insulated upright tanks for fluids storage at drill and construction sites. A fourth PistenBully Snowcat (PB600) was recently added so that LOIL can operate two pairs of equipment to increase capacity while improving safety. "Two factory trained PistenBully mechanics, Tony Warner and Joel Martens, were sent to Oregon to safety check and prepare the fourth machine to add to our Alaska fleet," Roger explains. It was barged via Alaska Marine Lines to Whittier then trucked by Alaska West Express to the Slope.
The new PistenBully is currently in use providing overland transport of cargo, fuel and heavy haul equipment for Hilcorp's Point Thompson project, routinely hauling loads up to 118,000 pounds. These extreme heavy hauls require two PB600s to create a 'push-pull' type of travel across the tundra.
Typically sleds are pulled by the PB600s to transport customer equipment and cargo efficiently and safely. The sleds are often used to move drilling supplies and building packages for remote Alaska locations. Most projects are tightly scheduled to beat breakup thawing which usually occurs in mid-April each year.
Lynden's PB600 fleet. Jim McSharry (left) is a Lynden Driver and PistenBully Operator.
Topics from this blog: Lynden Alaska Lynden Oilfield Services Featured