Lynden Logistics wrapped up a project this fall assisting one of the largest U.S. government contractors as they upgrade naval base facilities worldwide. Starting in January, Lynden's Seattle and Miami teams started moving 11 oversized modules from Pennsylvania to Florida for barge transport to locations in the Caribbean.

"The huge loads required permits and night travel to minimize impact," says Senior Account Executive Eric Klunder. "They also required top secret escorts for barge travel and other special procedures due to military protocol." Eric relied on sister company Alaska West Express and Sales Manager Jim Earl to review the project specifications. Jim and his team are considered the experts in heavy haul and military assignments.

Lynden also arranged air charters to deliver a variety of construction materials to naval base sites. "We set up five charters from Miami using a Saab 340-A prop plane and four charters using 737s for heavier items," Eric says.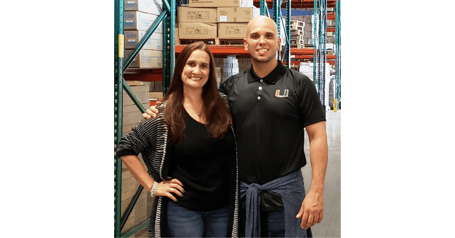 International Operations Agent Michael Redmond and District Manager Sulaisa Rejo (pictured to the right) received the freight, consolidated it onto pallets and transferred it to the Miami airport for transport. The shipments contained lumber, concrete, caulking, epoxies and other chemicals that required dangerous goods paperwork and 'safety data sheets' for air clearance. Some of the materials required repacking and screening. All dangerous goods declarations were filed for the airlines and the flights were ready for takeoff.

The last 737 charter included something a little extra from Lynden's Seattle team. "Over the many months we worked with these customers, we heard that they had few creature comforts at their remote work site," says Kristina Jordan, District Operations Manager in Seattle. "We thought it would be nice to send them a little treat, so we had Sulaisa buy several boxes of Dunkin' Donuts for them."