Over the past several years, several Lynden companies have replaced propane forklifts with energy efficient electric models. "Not only are the new lifts better for the environment, they perform better, too," explains Charlie Mottern, Lynden Transport Director of Maintenance. "Independent drive motors allow both tires to spin together which makes them great in the snow."
The lifts also improve indoor air quality and have unexpectedly reduced electric and heating use at some of the Lynden Service Centers. Lynden Transport began replacing propane forklifts with electric lifts in 2008, with 27 of 40 lifts replaced so far. In total, Lynden Transport, Alaska Marine Lines, Alaska West Express, Lynden Logistics, and Lynden International Logistics Company (LILCO) have replaced 104 of 246 lifts with the new electric models, which emit 54 percent less carbon than propane lifts. Lynden Transport, Lynden Logistics and Lynden Air Cargo's Alaska operations are now 100 percent electric.
"Electric lifts in high-use applications account for the majority of the hours," says Charlie. Lynden companies are using electric lifts for small lift hours at a rate of 95 percent for LILCO, 80 percent for Lynden Transport, 81 percent at Alaska Marine lines, 60 percent at Alaska West Express and 53 percent at Lynden Logistics.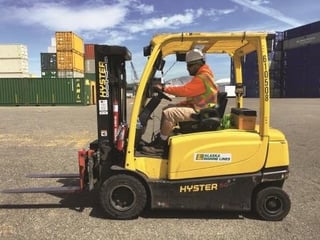 "This year we plan to replace four lifts at Alaska Marine Lines in Seattle and two at Lynden Logistics' LAX facility," Charlie explains. However, not all of Lynden's propane lifts will be replaced. "Some locations and applications are not suited for electric lifts or do not get enough hours per month to warrant putting electric lifts into play at this time."
At the end of 2016, electric lifts in operation across the Lynden companies saved over $300,000 per year in energy and maintenance costs, while reducing 433 metric tons of CO2 emissions. This equates to a 32 percent reduction in Lynden's total small lift emissions.
Topics from this blog: Lynden Green Lynden