Lynden is recognizing employees who make a difference every day on the job and demonstrate our core values, Lynden's very own everyday heroes! Employees are nominated by managers and supervisors from all roles within the Lynden family of companies. Learn more about the people behind your shipment.

Introducing Rudy Dacumos, Warehouse Lead at Lynden Logistics in Anchorage, Alaska.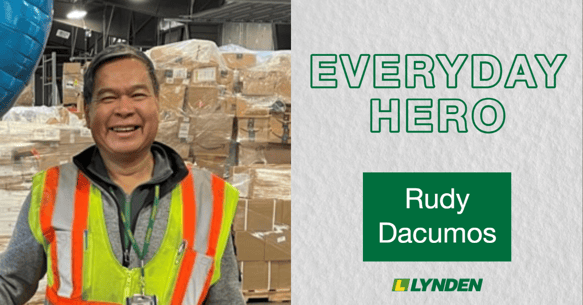 Name: Rudy Dacumos

Company: Lynden Logistics

Title: Warehouse Lead

On the Job Since: 1995

Superpower: Solving problems

Hometown: Tarlac, Philippines

Favorite Movie: Die Hard

Bucket List Destination: Tahiti

For Fun: Travel and spending time with family

How and when did you start working for Lynden?
An old boss at my previous employer transferred to Lynden, and he suggested I apply. He said it was a great company to work for. I've been at Lynden since September 1995.

What is a typical day like for you?
I assist with receiving shipments and loading and unloading the airplanes. As a lead, I am always motivating my team and keeping our spirits high. It is very important for me to make sure my team succeeds and enjoys being at work.

What has been most challenging in your career?
Sometimes it is challenging dealing with upset customers because it makes our job difficult. However, when we have happy customers and develop a strong relationship with them, it is probably the most rewarding part of the job.

What are you most proud of in your career?
When I started at Lynden, I was a Warehouse Representative and I worked my way up to becoming a Lead which took a lot of dedication and hard work.

Can you tell us about your family and growing up years?
I was born and raised in Tarlac, Philippines. I am the second youngest of five siblings. I have one brother and three sisters. My family came from the Philippines to Kodiak, AK in March 1980. I am very family oriented and I worked hard to make sure my sisters were able to attend college to become registered nurses. While I was in Kodiak, I met my late wife Jean and we have three wonderful children (one son and two daughters) and four amazing grandchildren.

What was your first job?
My first job was in Kodiak, AK at the cannery processing seafood.

What would surprise most people about you?
I love to bake and cook. My wife and I owned a bakery/restaurant in downtown Anchorage.

How do you spend your time outside of work?
Outside of work I enjoy playing with my daughter's puppy, Yoshi, fishing, cooking and traveling. I try to visit my son and his family in Salt Lake City and my daughter in Las Vegas as much as I can.

What do you like best about your job?
There are many things I like best about my job, it is hard to choose just one. I enjoy coming to work because of the team. Everyone is friendly and we work well together. I also enjoy meeting the customers and building a professional relationship with them. It is very important for me to gain customers' trust. Last but not least, Lynden is a great company to work for. Lynden offers great benefits and opportunities to grow with the company.
Topics from this blog: Lynden Employees Lynden Logistics Everyday Heroes