Lynden is recognizing employees who make a difference every day on the job and demonstrate our core values, Lynden's very own everyday heroes! Employees are nominated by managers and supervisors from all roles within the Lynden family of companies. Learn more about the people behind your shipment.

Introducing Rae Rhodes, Customer Service Representative at Alaska Marine Trucking in Ketchikan, Alaska.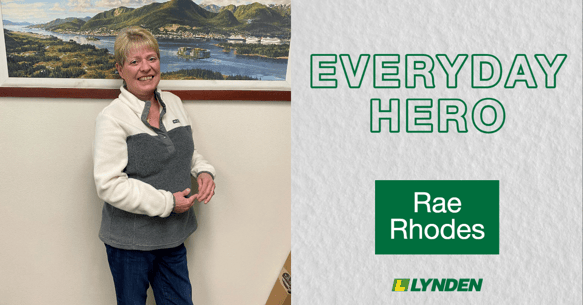 Name: Rae Rhodes

Company: Alaska Marine Trucking

Title: Customer Service Representative

On the Job Since: 1998

Superpower: Personifying customer service

Hometown: Ketchikan, AK

Favorite Movie: Anything with John Wayne

Bucket List Destination: South Africa

For Fun: Boating, fishing and bonfires on the beach

How did you start working for Alaska Marine Trucking?
I actually started working at Arrowhead Transfer in Ketchikan in 1996, then in 1998, we became Alaska Marine Trucking. Dave Curtis is the one who urged me to apply for the job after I left Boyer Alaska Barge Lines, and here I am, 25 years later!

What is a typical day like for you?
A typical day is filled with doing what I enjoy doing – being the face of Customer Service. Whether on the phone or up front and personal with a customer at the counter, or assisting our team of drivers, dispatch or our guys in the warehouse… It's all Customer Service.

What has been most challenging in your career?
In all honesty, change has been the most challenging. In my years here, there have been some very minor and some very major ones.

What are you most proud of in your career?
I'm proud of all aspects of my career, but if I had to pick just one, it would be the ability to treat each customer as an individual with individual needs, knowing that they are the reason we are here. A smile goes a long way.

Can you tell us about your family and growing up years?
I'm the youngest of five. I was born in Ketchikan, as were my siblings, and have lived my entire life in this little town by the sea. I grew up at the end of the road on the "South End" of town, where I learned to love the ocean and all things to do with it. In my younger years, there was no reason to go to town as I had everything right there in my front yard. My fondest memories, whether old or new, have to do with being on the water. I married my high school sweetheart, Jay, and we've been married for 37 years.

What was your first job?
Believe it or not, Ketchikan at one time, a very long time ago, had a Kentucky Fried Chicken! That was my first job.

How do you spend your time outside of work?
In the spring, I like to put my hanging baskets together, and attempt to get a few veggies in the garden all the while looking out at the ocean, checking the weather, wondering when the first trip out on the boat will be. My days of summer are spent waiting for Friday at 5 p.m. to roll around so we can cast off the lines from the dock and spend the weekend On Holiday, as I like to say, fishing, shrimping, and hanging out on a beach around a beach fire. Since I'm the one at the wheel finding the holes to drop the shrimp pots, I'm either a "Hero or a Zero!" The best part of all of this is your cell phone is only good for one thing – taking pictures! Nothing makes me or Jay happier than a weekend on the boat. Fall rolls around and it's always a bit sad, as it means that the time has come to get the boat ready for the winter, but then thoughts turn to vacation and the longing for some sun, sand and heat sets in (again, the whole ocean thing!). Once we're back and settled in for the winter, hibernation begins, all the while waiting for spring to roll around again.

What do you like best about your job?
The people.
Topics from this blog: Alaska Marine Trucking Lynden Employees Everyday Heroes