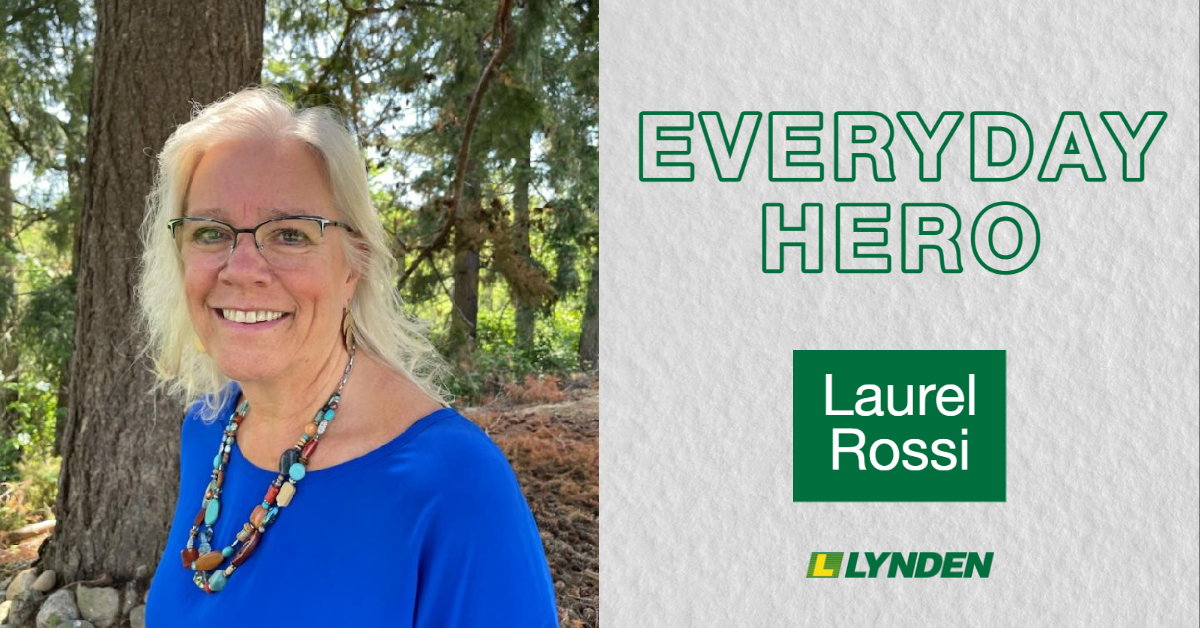 Lynden is recognizing employees who make a difference every day on the job and demonstrate our core values, Lynden's very own everyday heroes! Employees are nominated by managers and supervisors from all roles within the Lynden family of companies.

Introducing Laurel Rossi, Customer Billing Manager at LTI, Inc./Milky Way in Mount Vernon, Washington.

Name: Laurel Rossi

Company: LTI, Inc./Milky Way

Title: Customer Billing Manager

On the Job Since: 2007

Superpower: Attention to detail

Hometown: Ripon, CA

Favorite Movie: The Sound of Music

Bucket List Destination: Italy

For Fun: Reading, walking and gardening

How and when did you start working for LTI, Inc.?
I started working for LTI, Inc. as a temp in 2007 to help Freight Biller Rhonda Lanksbury. Everything was manual. We would joke that she was the brains, and I was the brawn. I had committed to work for a CPA during tax season, so when I was done with that, I came back and was hired full time in Credit and Collections. Brad Williamson was president at that time. During my first year I started handling the billing for the road salt contract. The first salt shipment came from Chile which was pretty complicated. I used Excel and that's all we needed at the time, but as the years went on, I took classes to allow me to do more in the program. Now I use it in many different ways at work, and it's my favorite tool. When Jan Frasier retired in 2016, I took over the milk billing and Rhonda took over the salt.

What is a typical day like for you?
I spend a lot of my time on spreadsheets and emails. I communicate with the other offices on questions about driver routes, billing for time, and reach out to operations teams in those areas. I do a lot of coordination with Crystal Martin in Sunnyside.

What has been most challenging in your career?
Trying to follow up on the where and when with our drivers. I am like a detective when it comes to pulling dispatch spreadsheets, bills of lading and other paperwork to build accurate billings. It's similar to being a private investigator or detective solving mysteries. That's why my superpower is being a detail freak. It really is fun to track down details to complete billings. It gets stressful at month end, when you are trying to find figures and untangle a cat's cradle of information. You have to be able to stand behind your billing.

What are you most proud of in your career?
I'm proud of my work ethic. I want to do the best for LTI, Inc. and give my best each day. I know that what I do is worthwhile because of what I produce and the fact that I can stand behind my billing figures.

Can you tell us about your family and growing up years?
I grew up on an almond ranch. I spent many hours weeding, collecting brush, mowing and moving sprinklers. I was a farm girl. My dad would say he could follow me through the orchard from the almond shells. We would hit the trees with a mallet and bamboo pole to get the almonds out. Now it's mechanical with a windrow and a huller.

I was born in Ripon which is a little Dutch town in California. I have two brothers and three sisters. I am the baby. I went to Ripon Christian School from K-12. I did track and basketball in school. In track I did long distance and hurdles. I wanted to play baseball and volleyball, but it was during the almond harvest and dad couldn't spare me during those times. I loved to be outside. I also played oboe in band.

I attended Humphrey's Business College in Stockton, CA to become a legal secretary. I was a legal secretary in both California and Washington. We moved to Washington in 1983 to another little Dutch town – Lynden. We thought we would move up here for five years until the kids were in school full-time, but we never moved back south. I'm a sun person so we tried to move back at one point to get my California sunshine back, but we didn't, and now I see that's the way it was supposed to be. We have four children. The oldest is 42, then 40, 37 and our youngest son is 32. Our oldest two are in Colorado and Nevada and the youngest two are in Lynden with us. My parents are both gone, and my siblings have moved to various locations.

What was your first job?
Working on the farm. I also babysat and picked boysenberries. I got paid for the farm work which taught me the value of money and savings. Per my parents, I had to put half in savings. I also had to buy all my own clothing and other personal items.

What would surprise people most about you?
I was president of the U.S. Air Force Academy Parents Association of Washington State (USAFAPAWS). Our son graduated in 2003 from the Air Force Academy. It was an organization of about 50 parents. I organized events within the state of Washington, including the All Academy Ball one year.

How do you spend your time outside of work?
I love to bake. My specialty is a German chocolate torte with four layers of whipped cream and a chocolate nut base alternating between each layer. We also love to go to our condo in Arizona. My husband retired this year, and we took a trip to see our kids in Nevada and Colorado. Our main thing now is grandkids. We have nine, ranging in ages from 14 years to 3 months. I spend a lot of my time reading. My genre is unique: Christian romance in the Regency period. I like the happy endings to them. There is so much drama in real life that I like to read about things that make me smile.

What do you like best about your job?
It's the satisfaction in finding a solution and solving a puzzle with billing or tracking down information to complete an accurate billing. I also enjoy the people I work with. I couldn't do my job without the dispatch and operations teams. They are so essential. And the Lynden Picnic in August is always so much fun. My husband, Charlie, works in the BBQ fish pit each year.
Topics from this blog: Lynden LTI Inc. Milky Way trucking Lynden Employees Everyday Heroes Featured