Lynden is recognizing employees who make a difference every day on the job and demonstrate our core values, Lynden's very own everyday heroes! Employees are nominated by managers and supervisors from all roles within the Lynden family of companies.

Introducing Kevin Ward, Dispatcher at Alaska West Express in Fairbanks, Alaska.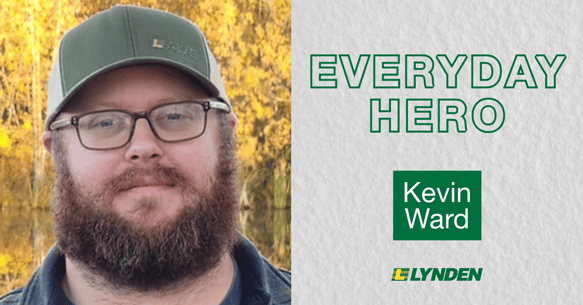 Name: Kevin Ward

Company: Alaska West Express

Title: Dispatcher

On the Job Since: 2010

Superpower: Problem solving and creative solutions

Hometown: Fairbanks

Favorite Movie: Austin Powers: International Man of Mystery

Bucket List Destination: Norway

For Fun: BBQing and brewing mead

How and when did you start working for AWE? Have you worked for or done projects with other Lynden companies?
I started working for Lynden at age 16 in 2007 as a seasonal employee washing trucks. At 19 I returned and started working full time in the yard, at the tank cleaning facility and transfer facility and acquired my CDL getting experience driving. Eventually I transitioned to dispatch. I had the opportunity to work closely with Lynden Air Cargo helping support flights from Fairbanks to Old Crow in the Yukon Territory. This allowed me to gain knowledge about Lynden Air Cargo operations with building loads and loading the Hercs to support their customer's needs.

What is a typical day like for you?
Busy, fast-paced, and constantly changing to meet various customer's needs, from Alaska Marine Lines barge freight deliveries to keeping Ft. Knox Mine and Pogo Mine supplied with materials for their daily operations.

What has been most challenging in your career?
Adapting to the changing environment and growth of operations. Learning to adjust, planning and thinking on the fly to meet the wide spectrum of requests throughout the day.

What are you most proud of in your career?
I'm proud of all the skills and knowledge I have learned over the years with Alaska West. There is also pride in being able to look back to my start washing trucks and growing my career through many different positions over the years.

Can you tell us about your family and growing up years?
I was born in Fairbanks, AK. At that time my father was an owner operator in Fairbanks, and we moved to Montana after I was born. I have three sisters. The majority of our younger childhood was spent living in Lavina, MT. Our family ran a custom harvest business cutting wheat through Texas, Oklahoma, Kansas, and Montana. We moved back to Fairbanks around 2003, and my father went back to work as a company driver at Alaska West. Once we moved to Alaska, I got involved playing football which I did for 9 years, including a year of college.

What was your first job?
In middle school I was a shop hand at Darby's Performance where they worked on ATV, UTV, and snow machines.

What would surprise people most about you?
Growing up in Montana my family owned some horses, and raised calves and lambs for 4-H. I also raised and showed Holland Lop rabbits.

How do you spend your time outside of work?
I currently coach a youth football team for 7 to 9-year-olds, which my son Maverick is playing on.

What do you like best about your job?
I enjoy the comradery to complete jobs as needed by customers, and how we work together in such a tight-knit way. The folks I work with make Alaska West feel like a second home. At times I get an opportunity to help with equipment or driving truck that gives a change of pace and different challenges.
Topics from this blog: Lynden Alaska West Express Lynden Employees Everyday Heroes Featured