Lynden is recognizing employees who make a difference every day on the job and demonstrate our core values, Lynden's very own everyday heroes! Employees are nominated by managers and supervisors from all roles within the Lynden family of companies.

Introducing Ken Welch, Purchasing Manager at Lynden Air Cargo in Anchorage, Alaska.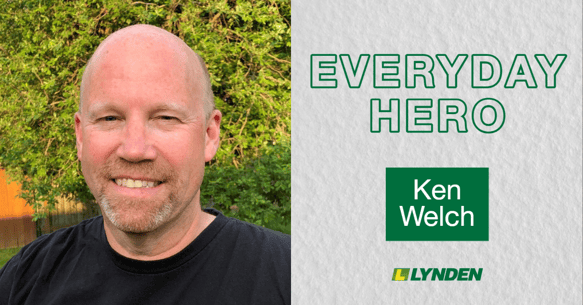 Name: Ken Welch

Company: Lynden Air Cargo

Title: Purchasing Manager

On the Job Since: 1997

Superpower: Remembering part numbers

Hometown: Anchorage

Favorite Movie: Back to the Future

Bucket List Destination: Australia

For Fun: Fixing up cars, hiking, biking

How and when did you start working for Lynden Air Cargo? Have you worked for or done projects with other Lynden companies?
I started working for LAC right before the Hercs arrived in Alaska in March 1997. I have not worked at any other Lynden companies, but I do work with many of them to ship our aircraft parts and equipment around the world in support of the Herc fleet.

What is a typical day like for you?
A typical morning is reviewing what part requests have come in overnight to see if anything needs to be ordered and what priority. Respond to other emails as needed, send out requests for quotes on various parts needed and check for any quotes that have come in. Might have a Teams meeting or two in the day. Field questions throughout the day about parts needed, how many, when they will arrive, etc. Coordinate with repair vendors on parts we might supply for larger items like engines. Reach out to vendors for delivery updates on items already ordered. Approve invoices for payment, review stock levels of inventory. We work in Trax, which is our inventory and ordering system, which also keeps track of all the parts installed on the different aircraft.

What has been most challenging in your career?
Expanding the aircraft fleet, adding additional aircraft is always a challenge. Especially the last few years, as we have quite a bit of specialized equipment on our aircraft that not many airlines use. It all seems to come together in the end, but in the middle it sometimes feels like we may never get there.

What are you most proud of in your career?
Longevity, staying with Lynden for over 25 years. I have been in the airline industry since 1985, kind of fell into it. LAC has treated me very well, and I am loyal to the company.

Can you tell us about your family and growing up years?
I was born and raised here in Anchorage with my brother. Typical Alaska childhood, camping, fishing, biking, sledding and skating in winter. I feel fortunate to have grown up here, I don't know that I would have had the same opportunities anywhere else. I have lived a couple of other places, but this is home. Also, I should mention I will be a first-time grandpa at the end of the year when my son Tanner and his wife, Amanda, expect their first child. Tanner is in the Army based at Joint Base Elmendorf-Richardson in Anchorage. I also have a daughter, Kylie, who will be attending the University of Alaska in Anchorage this fall, and I am married to my wife of 25 years, Janine. She has worked for Lynden as well.

What was your first job?
My very first job was a paper route that I had for a couple of years in my pre-teens.

What would surprise most people about you?
I am starting to enjoy cooking at home more and broadening my skills, such that they are. Especially since the pandemic began. My mom would be most surprised about that. I like to barbecue, and I like to think I cook a mean breakfast on the weekends!

How do you spend your time outside of work?
Taking care of things around the house, biking or going for a jog sometimes. Trying to stay healthy as I get older. Tinkering on cars as time allows. Or when they are broke. I have a 1973 Pontiac Firebird and a 1976 Chevy Nova. Nothing real special, but I think they are fun.

What do you like best about your job?
The challenge of finding the right part, and then getting it where it is needed as quickly as possible.
Topics from this blog: Lynden Lynden Air Cargo Lynden Employees Everyday Heroes