Lynden is recognizing employees who make a difference every day on the job and demonstrate our core values, Lynden's very own everyday heroes! Employees are nominated by managers and supervisors from all roles within the Lynden family of companies.

Introducing Joe Bates, Director of Cargo Operations at Lynden Air Cargo in Anchorage, Alaska.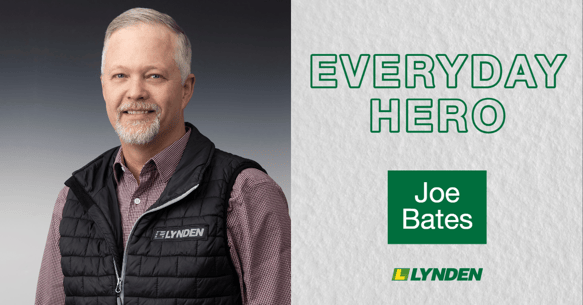 Name: Joe Bates

Company: Lynden Air Cargo

Title: Director of Cargo Operations

On the Job Since: 2003

Superpower: Adaptability - find a way to get the job done

Hometown: Caldwell, ID

Favorite Movie: Hacksaw Ridge

Bucket List Destination: Gettysburg National Battlefield in Pennsylvania

For Fun: Hunting, riding four-wheelers

How and when did you start working for Lynden Air Cargo?
I started working for Lynden Air Freight in March of 2003 as a cargo handler. We loaded the Herc every day, and I would watch it taxi out and wondered about what happened at the remote villages. A loadmaster position opened up three months later, and I was hired as Level I Loadmaster in June of 2003.

What is a typical day like for you?
My day starts with emails and phone calls at 6 a.m. I talk with customers and work with our ground handlers around the state throughout the day, making sure cargo fits and figure out how we can make it move into and out of the Herc with minimal ground support equipment.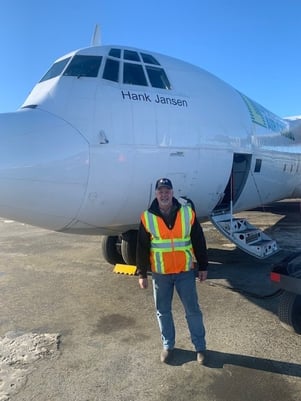 What has been most challenging in your career?
I spent almost three years working in Papua New Guinea when we started the natural gas pipeline project in 2012. The travel to and from Alaska and the working conditions in the jungle was not easy for a cold-blooded Alaskan!

What are you most proud of in your career?
I was able to participate in contracts in the Middle East in support of our government. I was proud of the support we were able to provide and play a small part in the operation. The work with the World Food Program taking Maize (grain) into the war-torn country of South Sudan is a close second.

Can you tell us about your family and growing up years?
I was born in Idaho and left for West Texas when I was 10 years old. My family started racing horses in 1983, and that was my life until 1992. Boy Scouts and a strong mom were very important in instilling the ideals that made me the person I am today.

What was your first job?
I started riding horses on the track at 13 and continued until I was 25, but my first real job was erecting steel buildings in Arkansas.

My family raised (cow) cutting horses in Idaho when I was very young. We moved to West Texas when I was 10 and they started the transition to racing Quarter Horses since there was a bit more money with them. I was the smallest of the bunch therefore ended up the exercise rider and horse breaker. We moved to New Mexico in 1988 and then transitioned to Thoroughbred racing. In 1992 we moved to Oaklawn Park in Hot Springs, AR and I trained horses for other folks and raced my own horses around the Midwest until I started getting tired of a seven-day-a-week job. The last horse I trained was in 1996. The rush you get on the back of a good fast horse going around that turn is something I will never forget. The next best thing is doing a runway check in the Herc at 100 feet and going 200 knots!

I sold my last horse to make the move to come to Alaska in 2002, and I have not had a horse since. I would say a good horse is about as close to a trusted companion as you can come except for a dog.

How do you spend your time outside of work?
A large portion of my non-working time is spent in support of my church. I also LOVE to hunt. I love hunting moose and caribou and was able to get my two boys each a moose out of a station in St. Mary's a year ago. It was a real highlight to be able to do that and I will be forever grateful for the opportunities the Herc and Lynden has given me over the last 20 years.

What do you like best about your job?
The best thing about my job is getting to work with and interact with people from all walks of life. The next best thing is getting a job done that no one thought we could pull off!
Topics from this blog: Lynden Lynden Air Cargo Lynden Employees Everyday Heroes Featured