Lynden is recognizing employees who make a difference every day on the job and demonstrate our core values, Lynden's very own everyday heroes! Employees are nominated by managers and supervisors from all roles within the Lynden family of companies.

Introducing David Greco, Driver at Lynden Transport in Fife, Washington.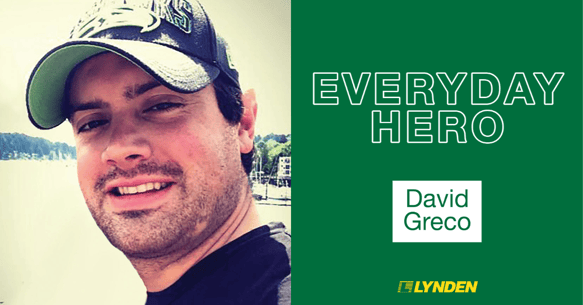 Name: David Greco

Company: Lynden Transport

Title: Driver

On the Job Since: 2011

Superpower: Making work fun

Hometown: Port Orchard, WA

Favorite Movie: Mel Gibson's The Passion of Christ

Bucket List Destination: Alaska

For Fun: Fishing, backpacking and camping with family

How and when did you start working for Lynden Transport?
I started working for Lynden as a casual driver in April 2011.

What is a typical day like for you?
Working the Lynden Tacoma dock and flatbed yard and driving semi trucks throughout the day.

What has been most challenging in your career?
The most challenging is hauling oversized flatbed loads and staying safe day in and day out amongst all the Seattle traffic.

Can you tell us about your family?
I grew up with one older brother and four younger sisters in Gig Harbor, WA. I am married with three kids: a boy, 8, a girl, 6, and another son who is almost one year old.

What was your first job?
Christmas tree farm helper.

How do you spend your time outside of work?
I enjoy spending time with family, backpacking, fishing and playing acoustic guitar at church.

What do you like best about your job?
Working with all the different types of people. Lynden is a really great place to work.