Lynden is recognizing employees who make a difference every day on the job and demonstrate our core values, Lynden's very own everyday heroes! Employees are nominated by managers and supervisors from all roles within the Lynden family of companies.

Introducing Corky Barlow, Equipment Services Supervisor at Lynden Oilfield Services in Prudhoe Bay, Alaska.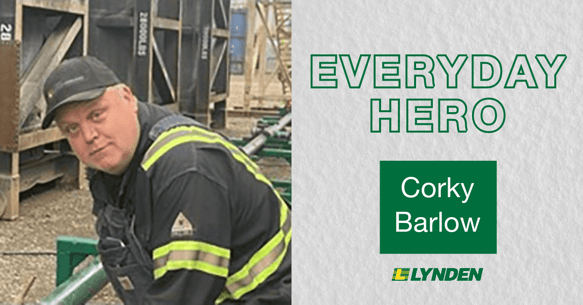 Name: Corky Barlow

Company: Lynden Oilfield Services

Title: Equipment Services Supervisor

On the Job Since: 2018

Superpower: Ready to lend a helping hand

Hometown: Soldotna, AK

Favorite Movie: National Lampoon's Vacation

Bucket List Destination: Travel the U.S. East Coast in the fall

For Fun: Anything outdoors; camping, fishing, yard work

How and when did you start working for Lynden?
I started working for Lynden in August of 2018 after Lynden purchased the oil and gas company Atigun. I worked for Atigun for 10 years prior to joining Lynden.

What is a typical day like for you?
Answer emails and customer calls, perform maintenance on equipment.

What has been most challenging in your career?
Working away from family and missing so much time with them being away from home.

What is something you enjoy about your current position?
I obtained a rotational schedule to support and spend time with the family. I used to work on the Kenai Peninsula for five or six days a week. With a rotational schedule, you're gone for a period, but when you're home, your family gets you for the whole time off – either two or three weeks instead of one or two days a week on weekends.

Can you tell us about your family?
I grew up with two siblings; my older sister Sherrie and younger brother Brian. Dad worked road construction during the summer, and mom was busy getting us to our events. I played sports through my junior year in high school and bowled until my early 20s.

My wife, Carrie, and I have five children. We lived in the Kenai/Soldotna area until 2017 when the weather on the Kenai Peninsula started getting to us, so we moved to Colorado to be closer to our grandchildren.

What was your first job?
Field maintenance for Soldotna Little League at 14 years old. This involved mowing, weed-eating, raking and chalking the fields. Our job was mainly to get the fields ready for the games at night. I played baseball from 7-18 years of age. I helped coach for a time, too.

What would surprise people most about you?
My name, Corky, was my grandfather's nickname. We also have been a certified foster home for four years in Colorado. My wife, Carrie, and I enjoy giving kids a safe place to stay for a period of time. Being a foster home gave us an opportunity to add another member to our family through adoption. We first got involved when we heard they were lacking foster homes, so we decided to give it a try. We ended up adopting our first foster child.

How do you spend your time outside of work?
Our family likes to camp, fish and explore new areas of Colorado and surrounding states. We took a family trip up to Yellowstone a couple of years ago. It was pretty cool to see Old Faithful in person.

What do you like best about your job?
The family atmosphere.
Topics from this blog: Lynden Lynden Employees Everyday Heroes Lynden Oilfield Services Featured