Lynden is recognizing employees who make a difference every day on the job and demonstrate our core values, Lynden's very own everyday heroes! Employees are nominated by managers and supervisors from all roles within the Lynden family of companies. Learn more about the people behind your shipment.

Introducing Brian Crawford, Operations Supervisor at Lynden Logistics in Anchorage, Alaska.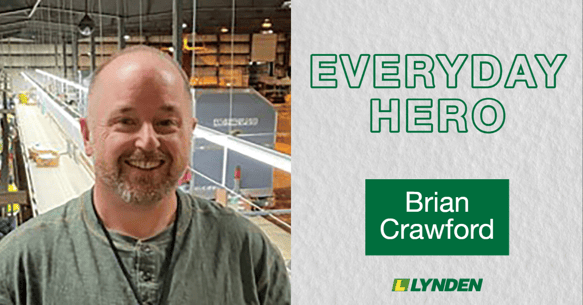 Name: Brian Crawford

Company: Lynden Logistics

Title: Operations Supervisor

On the Job Since: 2002

Superpower: Puts the team in teamwork

Hometown: Lytle, TX

Favorite Movie: A River Runs Through It

Bucket List Destination: Hike the Pacific Crest Trail

For Fun: Hiking, fishing, watching a good movie

How did you start your career at Lynden?
I saw the job opening on Craigslist and applied for it. For the past 18 years I have been with Lynden Logistics – Lynden Projects UPS. I worked my way up from Customer Service Representative to the Office Supervisor/Manager. When I started, Lynden Frontier Projects was in Canada and was run by Maggie Aurilia, a great person. UPS wanted the operation back in Alaska. Maggie and my old boss hired me in 2003 to work at the facility at the airport in Anchorage. It took us two years to become a well-oiled machine. It was a learning experience, that's for sure.

What is a typical day like for you?
I wake up, have a cup of coffee, check work emails and see if there are any new fires that need to be put out before I head to work. Then I arrive at work and put on my best game face and tackle the day. My job is to keep the office running properly, to help out the crew when they need help, and if I need help I reach out to Bob (Barndt) or the lead, Jessica Harpole, when I am beyond busy. I also monitor emails from our agents, the uploads from the scanner/handheld that tells us that the packages have been delivered or are on vacation or hold for pickup and so on.

I do billing for the 30 plus contractors that deliver the packages for us to make sure they get paid and I work on invoices. I also investigate missing packages or those without a proper signature. I talk to the contractor/agent to make sure the package has been delivered then follow up with the customer. Other tasks are taking phone calls to help out our agents, go out in the warehouse and look for mis-sorted packages to see if they have come back yet. There is total of five of us. Bob Barndt helps when I need to bend his ear and need help with flights out to the Bush. He keeps me centered. Also on a daily basis I run a report that's called Over & Under that gathers all the packages that have been scanned the previous day and handed off to our agents such as Fairbanks, Juneau, Ketchikan, etc.

To get packages to the Bush we use mainline carriers like Lynden Air Cargo, Northern Air cargo, Everts and Alaska Central Express. These airlines take the packages to the main HUB such as Dutch Harbor, Bethel, Barrow, Kotzebue, Nome, Juneau and other places. To get packages to remote areas in the deep bush, we use Ryan Air, Wright Air Service, Alaska seaplanes, and other small carriers. Then there are the mainline carriers that travel the road system like Wilson Brothers that drive from Anchorage to Valdez, a six-hour drive one way.

The packages get delivered throughout Alaska from the West Coast, the Interior, the Aleutian Islands and Southeast Alaska. We get some weird packages, especially live critters such as turtles, lizards, lady bugs and crickets. The main challenge is the low visibility, high winds and snowstorms. Then there are vehicle and plane breakdowns that will delay us for a couple of days. Right now, it's COVID-19 turning some stations into a skeleton crew of three or less people which makes it pretty hard to sort six pallets of freight.

What has been most challenging in your career?
The job itself is the most challenging. It's not for the faint of heart. The logistics of the job is very challenging also. If the carrier isn't flying to a destination that day and we need to move the volume, then you check with the other carriers to see when they are flying to the destination. If it's no better than the first carrier then you leave the volume there, but you hope that another carrier can get out there faster. It's a game of chance sometimes with availability of lift.

What are you most proud of in your career?
Sticking it out through the extreme tough times at work when most people would have thrown in the towel. Being proud of helping customers, going out of my way to make sure they get their package. Also earning the respect of my co-workers.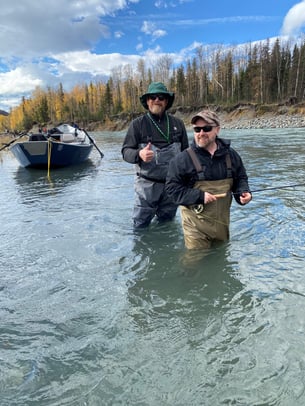 Can you tell us about your family and growing up years?
My hometown of Lytle, Texas is a HUGE football town, just like any other small town in Texas. My parents decided to move to Alaska for the better paying jobs in the summer of 1983 and drove from Texas to Alaska. I have two half-sisters and one half-brother. My brother is 46 and lives in Indiana, one sister is 44 and lives in Chicago, and the other sister is 40 and lives in Alaska. I was pretty laid back in high school and did some wrestling, but it wasn't my cup of tea. I graduated in 1989 from Wasilla High School then went to the Travel Academy for Cargo Specialists in 1990. I got a job with Grayline of Alaska in 1991 as a cargo handler in Anchorage. I moved to Homer in 1995 with my fiancée, did some commercial fishing longlining and tendering for a few months. I got married in June of that year and got hired on with South Central Air Cargo handler for a few years. I moved to Anchorage in '98 and worked for Reeve Aleutian until I blew out my lower back and got re-educated at Career Academy Business Office in 2000. Did some odd jobs here and there till 2002. I worked at Regional Hospital patient accounts as a collector which was an interesting job, then got hired with Lynden in March of 2003. I am now divorced and I have three wonderful kids. One son who is 23, and two girls, 14 and 16, who are the joys of my life. I am enjoying watching my kids evolve into young adults thinking they have it all figured out, and then they ask for advice. I tell them stuff they don't want to hear, but hey, they have to learn from their mistakes. I know I did when I was growing up.

What would surprise most people about you?
I am the quiet kind of person who likes to observe to see what's going on and then surprise people with a wealth of knowledge about music and movie trivia. I know how to cook and not burn boiling water, and I know how to do laundry. I learned all that good stuff while married and domesticated. Brian is pictured above with Nick Karnos fishing the Kenai River in Alaska.

What do you like best about your job?
Getting the job done correctly and making the customer happy.
Topics from this blog: Lynden Employees Lynden Logistics Everyday Heroes