Lynden is recognizing employees who make a difference every day on the job and demonstrate our core values, Lynden's very own everyday heroes! Employees are nominated by managers and supervisors from all roles within the Lynden family of companies. Learn more about the people behind your shipment.

Introducing Bob Barndt, District Operations Manager at Lynden Logistics in Anchorage, Alaska.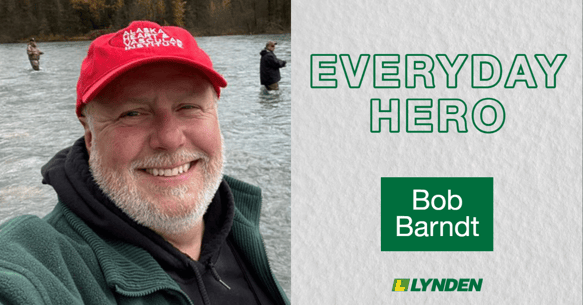 Name: Bob Barndt

Company: Lynden Logistics

Title: District Operations Manager

On the Job Since: 1987

Superpower: Taking care of internal and external customers

Hometown: Eagle River, AK

Favorite Movie: Tombstone

Bucket List Destination: Talladega Motor Speedway in Alabama to watch a race

For Fun: Spending time off the grid at his cabin, snow machining in winter and traveling in RV in summer

How and when did you start working for Lynden? Have you worked for or done projects with other Lynden companies?
I hired on with Lynden in 1987 at Prudhoe Bay as a foreman. Lynden was a contractor for ARCO at that time, and I was there for eight years. Over the last 34 years I have been fortunate to be able to work across all of the transportation disciplines with several Lynden companies. I spent 22 years with Lynden Air Cargo helping them get the customer base established in "Bush" Alaska, first with the Lockheed Electras and then with the Hercs. I was called upon numerous times to help out on project work, mainly in support of Lynden Logistics Services. One of the more interesting jobs I was fortunate to be part of was working in Russia for about a year on a huge oil spill cleanup project. My last four years have been working with the Lynden/UPS Projects team helping maintain our long-standing contract to move their bush packages all over the state of Alaska.

What is a typical day like for you?
These days I am working closely with our Lynden/UPS Projects team on the day-to-day challenges of moving 4,000 to 5,000 packages to over 600 zip codes and cities in Alaska. As we like to say…"Putting out Fires!" I have a great team to support me, too.

What has been most challenging in your career?
Not many that I can write about except in my early career with Lynden Air Cargo (humorous now). I was sent to St. Mary's to help load fish on the Lockheed Electras and I had to sleep on a cot in a 20-foot CONNEX for three days. Little did I know that was the norm for working in Bush Alaska!

What are you most proud of in your career?
The many customers that I have helped over the years, both large and small. It makes me proud that I have done a good enough job that even as I transitioned from the different Lynden companies, they call me to seek out a transportation solution. See, we have the best Lynden employees in the transportation business, so it makes my job easy.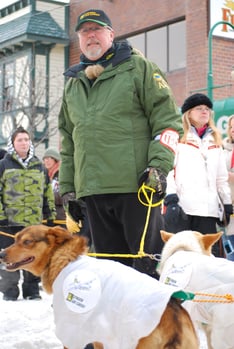 Bob volunteering at the Iditarod dog sled race in 2010.

Can you tell us about your family and growing up years?
I am originally from Friedens, PA, where my folks were raised. Their parents were coal miners. My father joined the Army and met my mom. I was raised the oldest of seven kids. We traveled to many bases before I joined the Navy. I spent four years as a Torpedomen's Mate. Then I moved back to Alaska and started my new career in the Oil Patch. This is where I was hired on with Lynden.

What was your first job?
I had paper routes, mowed lawns and was a grocery bagger at the base commissary. I also had a job as a short-order cook at a local rod and gun club in Hanau, Germany. I look back at that job as being my first real paycheck job, and I would love to do it again!

What would surprise most people about you?
I actually wanted to be a professional bowler when I graduated from high school. Also, for you bowlers, my high is 299! When I met my bride and told her this, she said 'DORK!'

How do you spend your time outside of work?
I spend my time with my bride Ann and family at our cabin snow machining in the winter and traveling in our motorhome in the summer. Being an "Off Grid" cabin owner and serving as part-time carpenter, plumber, electrician and all-around handyman is fun and actually therapy for me.

What do you like best about your job?
Absolutely 100 percent the people! There is no doubt in my mind Lynden has the best employees in this business!
Topics from this blog: Lynden Employees Lynden Logistics Everyday Heroes