Lynden is recognizing employees who make a difference every day on the job and demonstrate our core values, Lynden's very own everyday heroes! Employees are nominated by managers and supervisors from all roles within the Lynden family of companies.

Introducing Andy Sayler, Training and Development Manager at LTI, Inc., in Mount Vernon, Washington.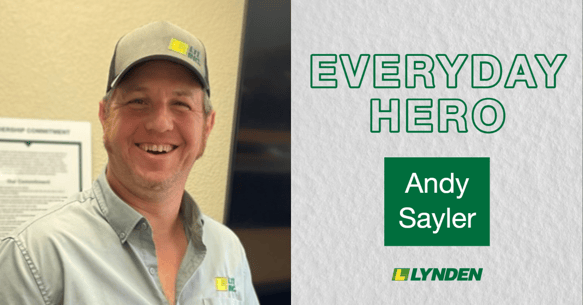 Name: Andy Sayler

Company: LTI, Inc.

Title: Training and Development Manager

On the Job Since: 2004

Superpower: Helping drivers solve hard problems

Hometown: Lopez Island, WA

Favorite Movie: Flight of the Navigator

Bucket List Destination: Alaska

For Fun: Volunteering for Whatcom County Search and Rescue and other groups

How and when did you start working for LTI, Inc.?
I originally started working for LTI, Inc. in the winter of 2004. I came from the heavy equipment industry doing dirt work. There was a change in my job and the safety officer (Jeff Kok) in my fire department shared that LTI had dump trucks and to come by and talk to them. After a brief talk with Jason, I found myself in the driver's seat of my new home. I did take a very short break to pursue a once-in-a- lifetime opportunity but it quickly dried up in a couple months. I came back to LTI knowing it was my final home.

What is a typical day like for you?
One thing I have learned about Lynden is the moment you think it's going to become predictable or typical it throws you a curve ball. I feel this is one of the things that makes our people so good at what they do. Whether I sit down at my desk to do training audits, registry updates, or just building out new class material, one phone call could change things in a moment. That call could lead to driver support in the field, new customer site visits in another region, or severe winter conditions. The short answer is there isn't one typical day and that's what I love about what I do.

What has been most challenging in your career?
Seeing drivers get frustrated about what they do. One of the things I share with new drivers in each one of our LTI orientation classes is that we/LTI doesn't succeed until our drivers succeed. When drivers, seasoned or new, struggle with a problem and don't speak up it's hard. We consistently share that no matter what they are doing, at any time of day, we have support personnel to help them. No matter how quiet it gets in the cab of a tractor, they are never alone.

What are you most proud of in your career?
Watching a driver that is struggling find that 'ah ha' moment where it finally makes sense and they understand the process. At that moment I know they are enjoying what they do as much as I do.

Can you tell us about your family and growing up years?
I come from a family of five kids. We moved around a little when I was younger but settled down on Lopez Island in the San Juan Islands. My mother took care of us while my father was a marine mechanic. After living on the island for a short period we had the opportunity to become caretakers on a nice, spacious waterfront piece of property. That time growing up on the water definitely carried through to many of my passions today.

The island locals could have described me as a little bit of a problem causer. One day I saw a sign in front of our local fire station looking for volunteers. I went into the chief at the age of 16 and asked if I could join. He quickly said no. After a period of time and my stubborn persistence, he changed his mind but under some strict parameters. That became the beginning of my 26-year volunteer career. Over the years to come, the fire department and other emergency response organizations would help shape who I am today.

What was your first job?
I had the opportunity to work for the county at a young age. During the summer months the county would fire up their youth litter pickup crew. Much like the fire department, it helped me to build structure with rules and regulation and gave me some much-needed guidance as a teen.

What would surprise most people about you?
I have recently passed my Dive certification to become a Search & Rescue Diver.

How do you spend your time outside of work?
Family and volunteering. It's best if either of those worlds allow me to be on the water. Whether it's being on the river fishing and playing with my son, or out on a Search and Rescue call to get an overturned swimmer on the river, I love being out in our local area enjoying what it has to offer and giving back.

What do you like best about your job?
The opportunities. I have never been somewhere where every day you could potentially do something new. Every day can be a challenge but with that challenge brings new ways to succeed.
Topics from this blog: Lynden LTI Inc. Lynden Employees Everyday Heroes Featured