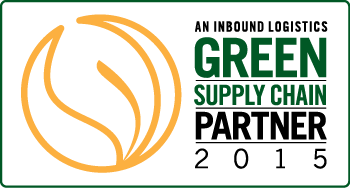 For the fifth consecutive year, the Lynden family of companies was named one of Inbound Logistics magazine's annual Top 100 3PLs and 75 Green Supply Chain Partners. Lynden is profiled in the June issue of the magazine for "demonstrating its commitment to the environment and the global community year after year." The Top 100 3PL list appears in the July issue and focuses on companies who are exceeding in meeting customers' logistics needs.
"If you want your carbon footprint to be as small as possible, and your business to be sustainable, make sure you are doing business with supply chain partners like Lynden who are at the head of the pack," says Felecia Stratton, Inbound Logistics Editor. Both lists are compiled by surveys and polls of supply chain professionals. Inbound Logistics' annual 75 Green Supply Chain Partners (G75) showcases the top 75 companies that demonstrate green best practices in their supply chain, logistics and transportation operations. Editors examine corporate sustainability initiatives, collaborative customer-driven projects, and participation in public-private partnerships, then choose the G75 based on four benchmarks: Measurable green results, sustainability innovation, continuous improvement and industry recognition.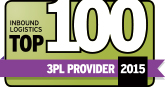 The Top 100 3PL Providers list is the result of editors soliciting questionnaires from hundreds of 3PLs, detailing the services they provide and their expertise in warehousing, web services and vendor management. Lynden provides transportation, logistics and customs clearance for customers' supply chain needs in the U.S. and Canada, including warehousing, distribution, return programs and raw materials handling.
"This ongoing recognition from our customers reinforces Lynden's commitment to operate cost-effectively and efficiently while reducing the environmental impact where we do business. We are proud of our track record as a 'green' company and a leader among 3PL and we will continue to pioneer innovative solutions for our customers while offering the Lynden brand of outstanding customer service," says Lynden President and CEO Jon Burdick.
Inbound Logistics is the leading trade magazine for business logistics and supply chain managers. The magazine's editorial mission is to help companies of all sizes better manage corporate resources by speeding and reducing inventory and supporting infrastructure.
Lynden Transport was the first Alaska-based transportation company to join the EPA's SmartWay partnership in 2008 followed by Lynden companies Milky Way, LTI, Inc., Brown Line and Alaska West Express. LTI, Inc. has received a SmartWay Excellence Award for the past two years. Lynden was recognized by Alaska's Green Star program for environmental stewardship beginning in 2009, becoming Alaska's first trucking company to earn the award. Lynden's environmental policy calls for meeting or exceeding environmental regulations, maximizing fuel efficiency, and monitoring and guarding against accidents, emissions and avoidable pollution.
Topics from this blog: Lynden Awards Green Lynden Project Logistics