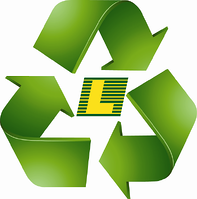 Lynden companies continue to be committed to working lean and green every day of the year. Since 2008, improvements such as lighting upgrades, motion sensors, heating and air conditioning improvements, and strategic insulation have resulted in dramatic energy efficiency improvements.
Alaska Hovercraft in Bethel replaced High Pressure Sodium (HPS) lights with high efficiency fluorescents at the airport and shop and saw an immediate 26 percent reduction in electricity use. "We recouped the cost of both upgrades in less than two months. The new lights are so bright that we can shut down half the warehouse lights during low traffic work hours without any safety concerns," says General Manager Kevin Carter.
At Alaska Marine Lines in Seattle, the new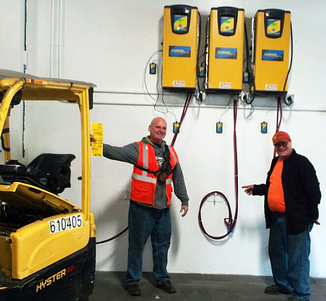 Container Freight Station (CFS) expansion also included the installation of high efficiency lights. Employees came up with the idea to paint walls, ceiling, doors, and headers bright white and scrubbing and resealing floors. The white walls reflect light and eliminate the need for more lighting fixtures. "We also replaced the old thermostats and eliminated several heating systems working against each other," explains Seattle Terminal Manager Mark Gaska.
Other improvements throughout Lynden companies include:
At LTI, Inc. in Sunnyside, WA, lighting upgrades in the shop and individual motion sensors installed on each light allow partial instead of full lighting of the shop. The change resulted in a 20 percent reduction in energy use.

Lynden Logistics' Boston employees worked with their landlord to install an automatic thermostat and saw a 30 percent reduction in electricity and heating use.

Anchorage's South Air Park facility uses "heat recovery" to heat some spaces while cooling others. A split duct in the IT computer room reroutes warm air into the basement below the offices and warm air from the second floor offices is rerouted to the cross dock.

In Fairbanks, Lynden Transport's recent warehouse expansion and upgrades included installing a dock door "curtain" to reduce heat loss in the winter months plus new dock plates and insulation to keep a tight seal around the doors. "But the biggest change was a new heating system which allowed us to manage our heat with digital thermostats. We can now set temperatures for specific times of day and days of the week," says Manager Greg Busher. The changes have resulted in a 20 percent reduction in natural gas use from 2011 to 2012. The Fairbanks upgrades were identified as potential ideas in an energy audit for the company done in 2011.
"A number of our companies participated in the Alaska Energy Authority program and signed up for audits to identify priorities for energy upgrades in 2011 and 2012," explains Anna Deal, Lynden's Green Team and Green Initiative Coordinator. "The greatest opportunity for savings comes from replacing inefficient lighting, installing automatic controls such as digitally controlled thermostats and motion sensors, sealing air leaks and repairing insulation around dock doors and other areas."
Topics from this blog: Lynden Green Lynden Lynden Employees