Loadmaster Bob Lesko is part of a Lynden Air Cargo crew that recently flew to Haiti as part of the disaster relief flight efforts. Bob shared an inspirational story about his experience in Haiti:

--------
Loadmaster Bob Lesko - Haiti Experience
I have a little story for you on Haiti. On my last flight there I was greeted by the USAID rep and asked him for a couple of individuals to help with the offload.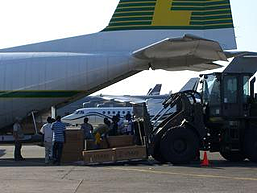 Fifteen minutes later he returned with about 15 strong individuals, all local residents that they recruited. Well, some of them had seen pictures of airplanes but had never have been on an aircraft, period. So I took a little extra time to offload and had groups of 4 at a time come up and help and after we finished we all got together for a 15 minute photo shoot.
The faces and laughter that came from these people was priceless, especially after all they have gone through. It was terrific to share with them the little I had to offer and the memories that I will come home with will be treasured.
Bob Lesko
Loadmaster
Lynden Air Cargo, LLC


Photo: Haiti locals helping to unload a Lynden Air Cargo Hercules aircraft (photo courtesy of Northern Air Cargo).
--------
To learn more about Lynden's Haiti relief flight involvement, please visit our relief flights information page.

Related Blog Posts
Relief flights to Haiti: Experiences of Captain James Wallace and the Aircrew of 405
Relief flights to Haiti: Captain Chris Caden shares his experiences