Protect your products and the environment
Lynden International Logistics Co., a Lynden company specializing in logistics solutions for the healthcare manufacturing industry, recently expanded its cold chain services by offering a new environmentally friendly packaging solution.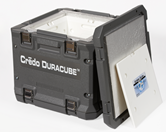 In response to the fast-growing pharmaceutical and biological markets, Lynden is introducing Credo Cube® Thermal packaging, designed for consistent temperature stability between 2-8°C for up to 96 hours. The Credo Cube® has been tested under extreme Canadian temperature conditions. The containers are reusable and 100% recyclable at the end of its useful life.
Lynden has partnered with a carrier for the reverse logistics, cleaning and sanitization process of the Credo Cube®. Lynden's validated conditioning process for the thermal plates ensures 96 hours of shipper effectiveness and is in conformance with Health Canada GUI-0069 Guidelines for temperature control of drug products during storage and transportation.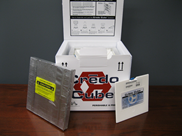 Credo® Thermal packaging is available in three sizes for modularity, simple preparation and pack-outs. The Credo Cube® is one of several temperature control packaging solutions available at Lynden.
Lynden's environmental policy calls for meeting or exceeding environmental regulations, maximizing fuel efficiency and monitoring and guarding against accidents, emissions and avoidable pollution.