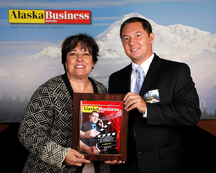 For 27 years, Alaska Business Monthly (ABM) magazine has created a list of Alaska's Top 49ers; the top revenue-generating Alaskan-owned and -operated companies. In the October 2013 issue of the magazine, Lynden Inc. was ranked number five on the Top 49ers list for the second year in a row and referred to as a "Blockbuster of Business".
These companies are the producers, directors, actors, costumers and set designers in Alaska's economy, keeping it alive, fresh and making money," writes Tasha Anderson in the October issue of the magazine. Alaska Native Corporations (ANCs) dominated the list, occupying 20 of the 49 spots. Overall, the 49 companies employed more than 70,000 people worldwide and over 25,000 within Alaska.
"Lynden is honored to make the list again this year and is proud to see the positive impact our companies have on the Alaska economy. We employ more than 700 people in the state," says Jeanine St. John, Vice President of Lynden Logistics. Jeanine attended the luncheon in Anchorage to accept Lynden's award.