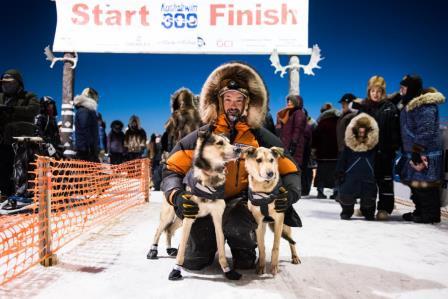 Knik Construction's Pete Kaiser won his fourth consecutive Kuskokwim 300 title Jan. 21 in Bethel, AK. Joar Leifseth Ulsom arrived in second place with Jeff King following in third. With the victory, Pete did what no other musher has done in 39 years. While Jeff King has won three straight races on two occasions, Pete's four straight Kuskokwim victories earn him a spot in the history books. He also eclipses Mitch Seavey on the career victories list, trailing only Jeff King.

This year's race took a new route. Teams faced rough ice over winding tundra trails, frozen creeks and wide open lakes. According to Pete, it was a struggle to get traction on the 140-mile route.

"When it's icy, the dogs have to focus so much more on each step," he says. "It's mentally taxing and entirely different from a snow-covered trail where they can zone out and move along at an easy clip. Overall it was a challenging race for them and for me."

Pete and his team are sponsored by Knik Construction and Bering Marine Corporation each year. For the first time in six years, Pete trained in Bethel. The region finally received enough snow to support the demanding regimen Pete and his dogs go through each year to prepare for the Kuskokwim race and the annual Iditarod. It's also where Pete lives and works.

"We live out here and train out here, so we're a little more comfortable than most with the Kusko, but it was still one of the toughest, if not the toughest, races I've ever done," he says.

Pete is now focused on preparing for the Iditarod which begins March 3 in Anchorage.