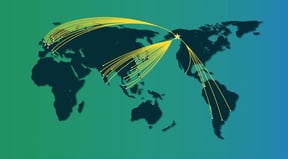 Through its worldwide network of international partners and sister companies serving Alaska, Lynden Logistics introduced a new service this spring offering seamless Less-than-Cargo-Load (LCL) and Full-Container-Load (FCL) transportation to Alaska from foreign ports around the world. Whether it's a pallet of fishing gear from China or a full container load of machinery made in Germany, Lynden can handle it all the way from origin to delivery in the 49th state.
"This product is unlike anything we have offered before and unique in the industry," says Charlie Ogle, Lynden's Senior Director of Global Sales. Working with its contracted ocean carriers and Shipco Transport, Lynden now provides port-to-door through ocean rates from more than 50 major ocean ports around the world to Alaska.
FCL customers save money, time and potential cargo damage by eliminating the transfer of cargo from one container to another in Seattle. LCL customers enjoy a single factor "all in" rate from the origin warehouse to door delivery in Alaska. Lynden can also handle all import requirements with U.S. Customs through its customs brokerage department in Anchorage.
"In this buy everywhere-sell everywhere world, Lynden's new ocean product literally brings the world to Alaska customers," Ogle explains.