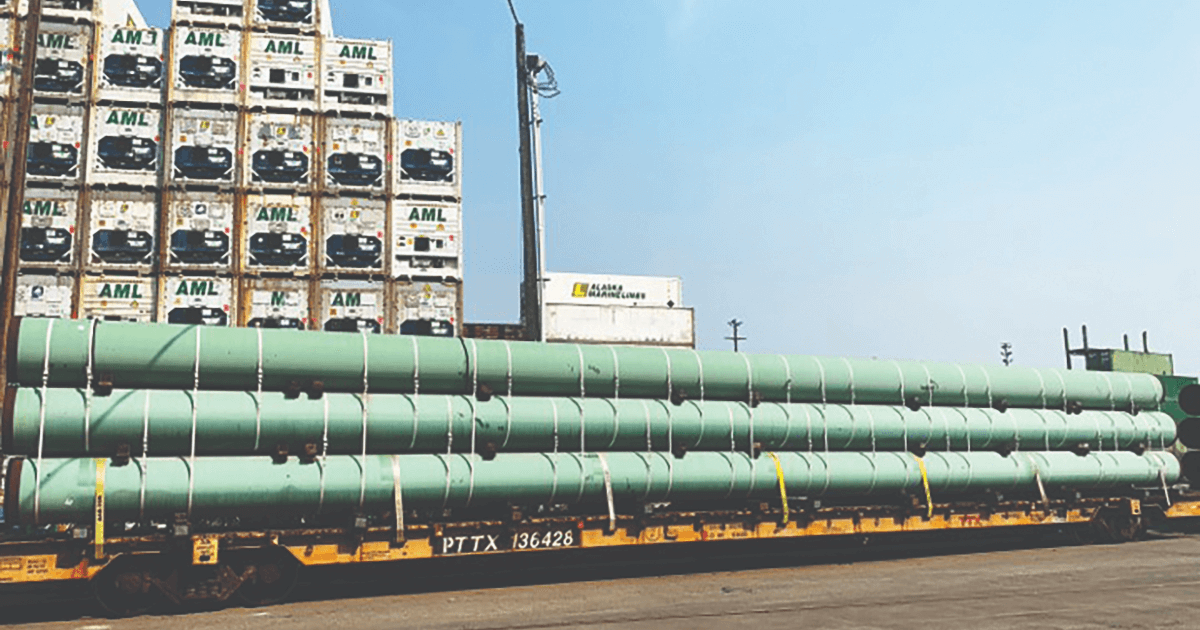 A load of 80-foot pipe ready for the barge.

Alaska Marine Lines and Lynden Logistics are supporting the Navy's Shipyard Infrastructure Optimization Program (SIOP) to replace Dry Dock 3 at Pearl Harbor and build a maintenance facility. The shipyard project is a key investment for the Navy to increase capacity and modernize public shipyards through upgraded dry docks, facilities and new equipment. Dry Dock 3 will become functionally obsolete once the Navy's Los Angeles-class submarines are no longer in service. The dry dock was built in 1942 and cannot service Virginia class submarines or larger surface ships. The historic $2.8 billion project is the largest construction project on the island in 70 years and is expected to take five years to complete.
According to Alaska Marine Lines Hawaii Regional Sales Manager Tracy Fujikawa, initial discussions for the Pearl Harbor project started in July 2022 and the first shipment moved via barge from Seattle this summer. "We were fortunate to have started discussions early with Hawaiian Dredging Construction Company, and once the project was awarded, partnered with the Dragados Hawaiian Dredging Orion Joint Venture on moving some of the larger materials for the start of the project," he says. "We had many meetings with our operations, pricing and sales teams to prepare a One Lynden presentation to the Navy. This has been one of the most exciting and challenging projects I've ever worked on."
Cargo is already moving to Seattle and Los Angeles for barge and steamship transport to the island. Crane mats, steel omega beams and plates, 80-foot by 3-foot pipe, vehicles, and hundreds of smaller pieces have been filling the Alaska Marine Lines barges in Seattle (see photo below). Other Lynden companies are ready to move cargo for the project throughout the U.S. "Lynden Logistics moved priority overnight shipments of testing blocks from Honolulu to Illinois, and an ocean shipment from North Carolina to Honolulu," says Melissa Strohlin, Senior Account Executive. Lynden is also expecting requests for international shipments to support the project.
"It's been an all-hands-on-deck project so far with daily contact with the customer," Tracy says. "This project fits our One Lynden capabilities very well."
"We look forward to working with all our stakeholders on this project over the next several years to deliver this critical capability to the fleet," says Captain Steve Padhi, Commanding Officer in Charge of Construction (OICC) Pearl Harbor Naval Shipyard. "The project team and cooperating agencies have gone above and beyond to set the conditions for success."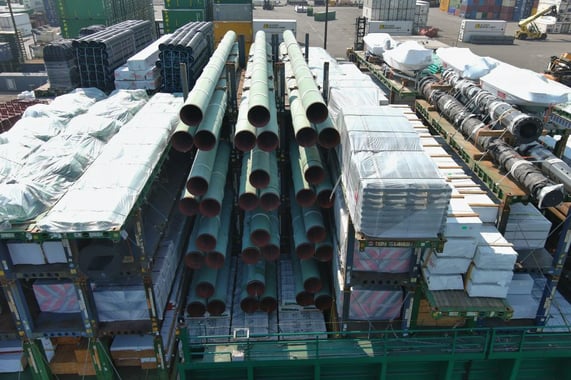 Project materials loaded and ready to sail.
Topics from this blog: Lynden Hawaii Lynden Logistics Government and Military Project Logistics Ocean AML Featured