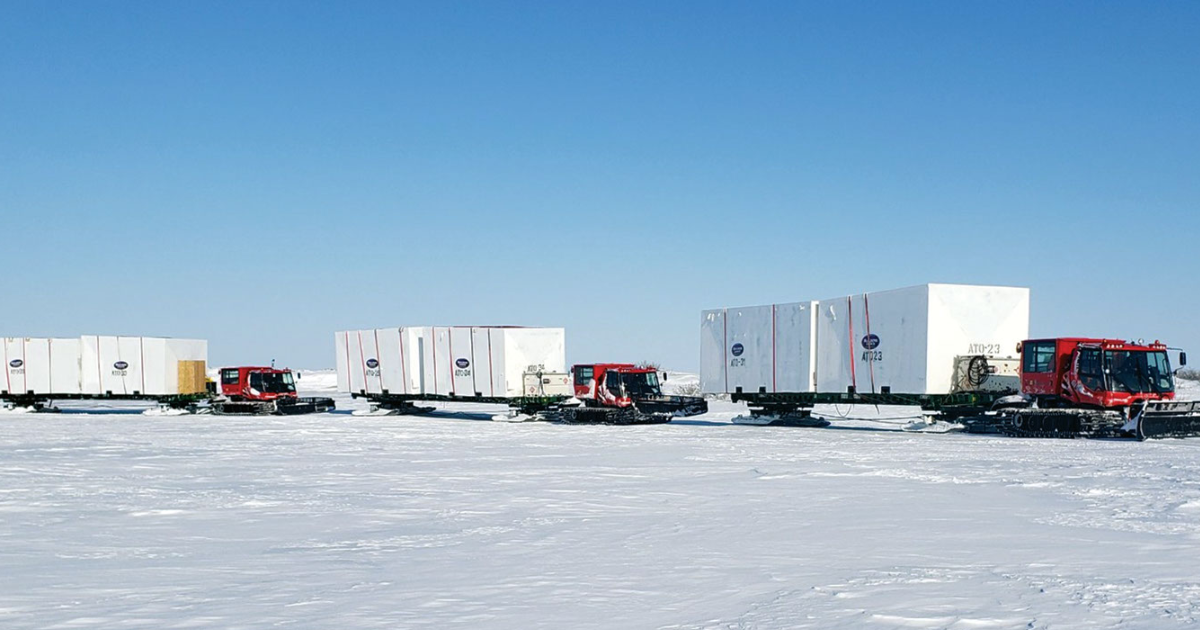 Lynden Oilfield Services equipment crossed tundra-covered public lands in Alaska this winter and spring to deliver critical infrastructure across the North Slope that couldn't wait until this summer's barging season.

Methanol, cement mixer trucks, front-end loaders, sheet steel and fire trucks were included in the remote deliveries. Time was limited as the tundra is closed to travel once the snow depth deteriorates. In the photo below a fire truck destined for the Barrow Airport is towed by a PistenBully pulling a sleigh across the North Slope Borough's Community Winter Access Trail. Air freight and other alternatives were not an option for most of the cargo due to weight and dimensional challenges.



"This season was the busiest yet for snow road projects, which meant many challenges for our team. With the hard work and innovative thinking of our crew we were able to pull it all off," says John Jansen, General Manager of Lynden Oilfield Services. The team moved more than a million pounds of freight on the North Slope this season using the PistenBully snow cats. These deliveries allowed for more efficient and newer housing in the community of Atqasuk and helped the village of Utqiaġvik repair and replace fuel storage areas. Unlike conventional trucks that move freight on roads with existing right-of-way and permits, the PistenBully snow cats must travel across property owned by a variety of entities at an average speed of 9 mph.

"We have to ask permission and/or obtain permits from all of the land owners before we can begin the work," says Tyler Bones, Director of HSSE for Alaska West Express. "The Lynden Oilfield Services team did an amazing job this year moving the freight that ranged from housing modules to a fire truck. We had a professional group of employees that made the long hours and challenges look easy."

The moves involve cooperation between Lynden companies and Alaska partners like the Bureau of Land Management, North Slope Borough and Alaska Department of Natural Resources. In all, Alaska West Express and Lynden Oilfield Services worked with 10 different local, state, and federal agencies and three native corporations this season.