Gas tank drained. Check. Battery cables tied back. Check. Original Bill of Sale and shipper photo ID. Check.
After 18 years at Lynden Logistics and countless global shipments, International Agent Colleen Delaney knows what is needed to ship just about anything overseas. Automobiles have become her specialty over the past few years as she handles the safe ocean transport of vintage automobiles from the U.S. to the U.K. for London-based American Legends, LLC. "We don't typically ship vehicles, due to the extensive paperwork and customs requirements, but we will handle this type of shipment for customers who approach us with these special requests," she says. So far, Colleen has handled the transport of Corvettes, Mustangs, Ferraris, a 1965 Buick Riviera and she is preparing to ship over a Trans-Am from the Smokey and the Bandit film and a replica of the General Lee, a 1969 Dodge Charger from the TV show The Dukes of Hazzard.
When it comes to loading and securing the valuable automobiles into containers Lynden turns to trusted partner SeaPac Transportation Services of Seattle. "We use SeaPac for all our 'special needs and delicate handling' FCL shipments," Colleen says. President Paul Kimball was Lynden Transport's Vice President of Administration in the 1970s and understands the Lynden brand of customer service and excellence. In addition to cars, engines and other specialty parts are palletized and shipped via ocean for the company. "SeaPac is the best of the be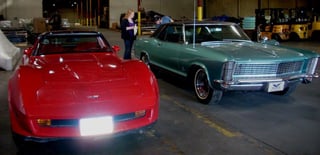 st in this area. We won't partner with just any company – we require top notch service to keep our customers happy," Colleen explains.
The export of vehicles requires an extensive amount of paperwork. The original title and Bill of Sale is required by customs to prevent stolen freight. Customs filing must also be presented 72 hours prior to the sailing of the vessel so that the vehicle is available for inspection by customs if they so choose. "Lynden Logistics offers this premium service at reasonable prices compared to other forwarders," Colleen says.
Most of the classics that Lynden ships for American Legends are headed to auctions in London or are sold to car collectors throughout Europe.
Topics from this blog: Lynden Freight Forwarding Lynden Transport Lynden Logistics Ocean International