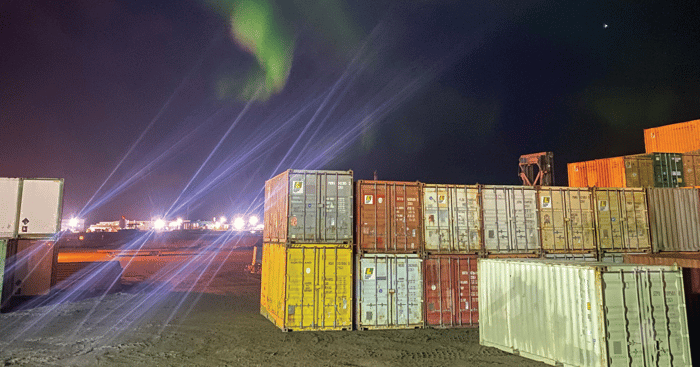 Using trucks, barges, landing craft and plenty of ingenuity, Lynden transported 10 million pounds of frac sand from Bruderheim, Alberta to Prudhoe Bay to support a customer's North Slope oil exploration.
"We started talking to Mark Mims at Great Bear Pantheon about this project in February," explains Lynden Transport Corporate Account Manager Jacob Harrison in Houston. Jacob project managed the move with Paul Friese in Anchorage. "It kicked off at the end of ice road season in late April. We had a big job ahead to get it all to destination by the first week of August."
Originally planned as a surface move from Lynden's Edmonton location, the sand was to be delivered to Prudhoe Bay within five months with 13 dedicated loads per week.
As the project progressed, unforeseen obstacles arose including a delay in Great Bear's frac date. "This allowed us to utilize barge service for a majority of the sand via Alaska Marine Lines," Jacob says. "Working with Dave Curtis and Oliver Zidek, we soon had a plan in place." In addition to the ongoing loads being trucked from Canada to Alaska (110 loads in all), sand was dispatched from Alberta to Seattle for loading on the northbound barge.
In a four-week period, drivers hauled 95 loads of sand to Seattle where Alaska Marine Lines crews consolidated them into 84 loads of 18 sacks each.
Once the barge arrived to the North Slope, weather intervened. "We had to pivot from our initial plan when we discovered a large concentration of ice between Barrow and Prudhoe Bay," explains Alaska Marine Lines' Brian Ward. "It was going to be at least 10 days before we could make a safe transit with the tug and barge to our original arctic port of West Dock, so we sailed to Barrow where crews offloaded all of the frac sand and lightered it using landing craft Greta and Sam Taalak."
The voyage from Barrow to West Dock is 24 hours, so the process took 10 days with each load carrying an average of 10 20-foot containers of sand.
From West Dock, Lynden Oilfield Services completed the last leg of the journey, providing the trucking to the yard in Prudhoe Bay where sand was transferred into trailers, then delivered the final mile to the drill and frac site. In addition to frac sand, Lynden hauled other materials for Great Bear's project including chemicals, casing and two miles of 12-inch hose used for the millions of gallons of water needed for flow testing in the fracking process.
Jacob credits Natasha Earl, Deanna Benson and the Lynden Transport Edmonton and Fairbanks operation teams as well as Lynden Oilfield Services for the success of the complex move. "On the AML side, Dave, Oliver and Brian were all instrumental in making the barge an integral part of this multi-modal move," he says.
"I've had a long working relationship with Lynden, and Great Bear can always count on the team to make things happen," says Mark Mims, Logistics and Supply Chain Manager for Great Bear Pantheon. "Lynden was the obvious choice for moving such a large quantity of sand such a distance. We were impressed with how the Lynden locations all worked so seamlessly to complete this logistically challenging move. Once the sand was in place, Lynden Oilfield Services moved loads from their yard in Prudhoe Bay to our drilling pad 25 miles to the south in an incredibly short timeframe. Drivers also handled lastminute shipping requests out of Texas and Canada. The Lynden team did an exceptional job helping to make this project a success."
Topics from this blog: Lynden Transport Alaska Energy Multi-Modal Specialized AML Lynden Oilfield Services