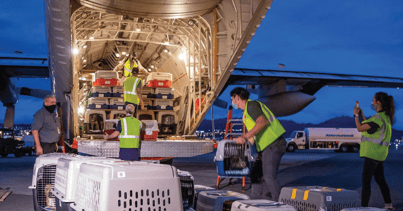 Hawaii's animal shelters had been overcrowded since the Wings of Aloha transfer program that provides off-island adoptions was paused due to the COVID pandemic. Air Charter Service, Wings of Rescue, Greater Good Charities and The John R. Peterson Foundation came up with the perfect solution: the largest pet rescue flight in history. But they needed a plane. A big plane. One large enough to carry nearly 600 dogs and cats collected from five shelters across Hawaii.

Enter Lynden Air Cargo and its flight crew. On a Wednesday in late fall, dozens of staff, volunteers, and foster families worked day and night to prepare the animals for the long journey to Seattle where they would receive a second chance in new homes. Dubbed the Paws Across Pacific flight, it took months to coordinate.

"Thomas Howe of Air Charter Service reached out looking for a unique solution to a unique requirement, which we felt was right up our alley," says Dan Marshall, Lynden Air Cargo Charter Manager. "We were able to fly our C-130 aircraft from Oakland, CA to each location to pick up the animals and reduce the loading and unloading that other operations would require by using a spoke/wheel approach. We linked the four locations together and then launched from Hilo direct to Boeing Field in Seattle."

Island by island, kennel by kennel, hundreds of shelter animals made their way into the massive Hercules. Most of the animals were already adopted upon landing in Seattle and around 120 of the cats and dogs continued their journey to shelters in Washington state, Oregon, Idaho, and Montana. The flight was covered by national media and provided some heartwarming good news for many people who are overwhelmed by pandemic updates.

"It was a pleasure to be involved in this monumental transport of pets," Dan says. "Our crews reported that the Greater Good team was one of the most organized and efficient groups we have ever encountered. Thomas Howe pulled it all together and ran an excellent operation coordinating between all the groups involved, and we heard positive feedback about Lynden and our flight crew."

Amy Mills, an employee at Seattle Area Feline Rescue, sent a message about the project to Lynden's Facebook page. "I was on the receiving end of this flight. We were a destination shelter for some of the cats," she writes. "When the plane taxied to the hangar and I saw Lynden Air Cargo on the side, it was an added bonus to the day. (Lynden patriarch) Hank Jansen was a neighbor of my grandparents in Lynden, WA. Lynden Transport will always catch my eye and make me smile. Thank you for helping all these pets and the people who work so hard to protect and care for them."

Lynden Air Cargo has transported many animals over the years, including whales, horses, bison and Icelandic ponies.
Topics from this blog: Lynden Air Cargo Hawaii United States Charters Air Community