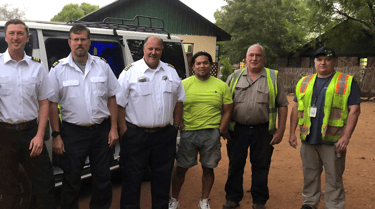 South Sudan is the newest country in Africa after gaining independence from Sudan in 2011. Since then it has been plagued by civil wars, ethnic violence and unrest. In 2020 the government and opposition forces signed a peace agreement, but the operating environment remains challenging.

Lynden Air Cargo's aircraft N409LC and crew arrived in Juba, South Sudan, last December to fly supplies to Rubkona Airfield near the town of Bentiu where the United Nations' largest refugee camp is located. It was the first time a Lynden Air Cargo aircraft and crew was based in South Sudan and the first time operating into Rubkona for the World Food Programme. Rubkona has very little infrastructure, so the Lynden plane landed on a dirt airstrip with visual flight rules operations only. Over the next three weeks, the crew averaged two flights per day for a total of 25 relief flights. The last flight was completed in January.

In advance of the crew arriving, Lynden Air Cargo Director of Safety Michelle Fabry and Project Manager Corné Steyn flew to Juba to meet with airport officials, vendors and the representatives supporting the World Food Programme. The threat level remains high in the area, so each flight required a security assessment and release prior to takeoff.

"We had contingency plans in place in the event that conflict erupted with pre-determined locations to divert and relocate as necessary and backup communication devices," Michelle explains. "I was most impressed with the positive attitudes, teamwork, and patience displayed by each crew member, even after multiple delays in getting started, COVID restrictions, and anything else that came up. Our team completed the campaign safely, without incident, damage or injury. We truly appreciate their extraordinary efforts."

Lynden Air Cargo's crew included: Captain Warren Woods, First Officer Isaac Ufford, Flight Engineer Chris Allen, Loadmaster Leo Lopez, Mechanic Milton Beaver, Mechanic Tim Buchholz, and Project Manager Corné Steyn. Some members of the crew are pictured above.

Captain Warren Woods had words of praise for his entire crew. "I'm amazed at the team I was allowed to work with, many sharing their vast local knowledge of Africa," he says. "Leo Lopez is not only a Loadmaster; he is a magician. He gets things done with limited resources, and his dedication to getting the job done safely is very important on campaigns like this. He earned the trust and respect of all the customer handlers, aircraft loaders and security personnel at Rubkona."

According to a member of the World Food Programme Aviation Unit in Rome, "The cooperation was brilliant between the two UN agencies and Lynden Air Cargo. World Food Programme is looking forward to future cooperation, as Lynden has proven once again to be a reliable and professional operator."
Topics from this blog: Lynden Air Cargo Disaster Relief Charters Project Logistics Air Community International