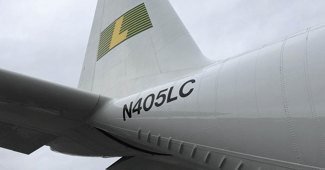 Lynden Air Cargo's fleet of L382G aircraft now include fuel-efficient Microvanes that allow for energy savings as well as increased speed. Engineered by Lockheed and licensed to Metro Aerospace, the Microvanes are small aerodynamic components that are surface mounted to the aft fuselage, effectively reshaping the air flow around the cargo door and tail. They reduce total drag on the aircraft while reducing fuel and thrust requirements. The Microvanes are expected to result in fuel savings of up to 4 percent (up to 34,000 gallons of fuel saved per aircraft per year) depending on flight length on the Lynden fleet.

"This project supports our ongoing efforts to support Lynden's overall green initiative," says Ethan Bradford, head of Technical Services for Lynden Air Cargo. "We assisted Metro Aerospace to acquire FAA approval for installation and now we have the first set of Microvanes installed on N405LC. We hope to install them on the remaining fleet by the end of 2019."

The first long-range mission to prove the effectiveness of the Microvanes was to Antarctica via Christchurch, New Zealand, to support an Italian research group. The Microvanes provide a margin of safety for these long flights.